When it comes to Zydeco music, Baton Rouge won't disappoint. You can usually catch your favorite band at a music festival or local club.
Like Cajun music, Zydeco is a music genre that evolved in Southwest Louisiana. Zydeco is sung in French or English. The dance itself has a set pattern of 8 beats, though there are as many ways to dance Zydeco as there are Zydeco dancers. The tempo varies widely, from slow to very fast. Though Zydeco is distinct in origin from the Cajun music, the two forms frequently influenced each other, forming a complex of genres native to Louisiana. Many Zydeco bands will also play Cajun tunes; and many Cajun artists also play Zydeco, giving dancers variety on the dance floor.
The origin of the word "Zydeco" is uncertain. One theory is that it derives from the French phrase Les haricots ne sont pas salés, which literally translates as "the snap beans aren't salty". The earliest recorded use of the term might have been the country and western band called Zydeco Skillet Lickers who recorded the song "It Ain't Gonna Rain No Mo" in 1929. Clifton Chenier, known as "The King of Zydeco", became the music's first major star, with early hits like "Les Haricots Sont Pas Salés" ("The Snap Beans Ain't Salty") — a reference to the singer being too poor to afford salt pork to season the beans.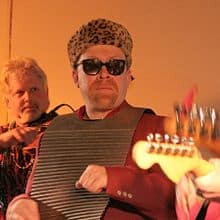 Usually played at a fast tempo and dominated by the button or piano accordion and a form of a washboard known as a "rubboard," "scrub-board," "wash-board," or frottoir, zydeco music was originally created at house dances, where families and friends gathered for socializing. The first Zydeco vest frottoir (rub-board) was designed by Clifton Chenier in 1946. Other instruments common in Zydeco bands include the old world accordion, guitar, bass guitar, drums, Cajun fiddle and sometimes even horns and keyboards.
Clifton Chenier, a Zydeco music pioneer, made Zydeco popular on regional radio stations. In the mid-1980s, Rockin' Sidney brought international attention to Zydeco music with his hit tune "My Toot Toot". Rockin' Sidney, Clifton Chenier, and Queen Ida all received Grammy awards during this pivotal period, opening the door to emerging artists who would continue the traditions. In 2007, Zydeco achieved a separate category in the Grammy awards, the Grammy Award for Best Zydeco or Cajun Music Album category.
Besides finding Zydeco in Baton Rouge, Buck & Johnny's in Breaux Bridge, located about an hour from Baton Rouge, has Zydeco breakfasts on Saturday mornings at from 8:30 am – 11:30 am. Eat a delicious breakfast, enjoy bottomless mimosas, and dance to Zydeco!
Few things can immerse you into Baton Rouge and south Louisiana's culture like listening and dancing to Zydeco and Cajun music. Book your stay at The Stockade Bed and Breakfast and don't forget your dancing shoes!
For information on Cajun music, see our blog, Listen, Dance and Jam to Cajun Music in Baton Rouge.
(Rubboard photo courtesy of https://www.flickr.com/photos/grdarling/; https://www.flickr.com/photos/grdarling/2255696764/sizes/m/in/photostream/)