We continue with Part II of the traditions that go along with the celebration of the Carnival Season.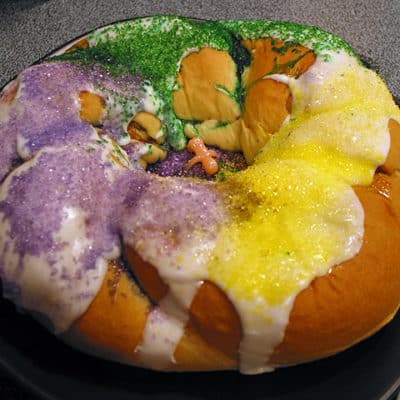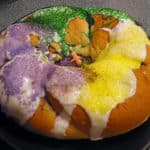 • King Cake
King Cake is typically made of brioche dough and is typically only eaten at Mardi Gras. Braided and laced with cinnamon, the dough is then glazed with purple, green and gold sugar. Today there are many variations of the King Cake, offering delicious fillings and doughs, however, they are all decorated in purple, green and gold sugar or icing. Green represents faith, gold symbolizes power, and purple is justice. In some king cakes, a small plastic baby is given along with the cake to be hidden inside so that whoever gets the slice of cake with the baby has to purchase the next cake or host the next party.
• Parade Floats:
Parades can consist of marching bands, dancers, and other organizations, but most have a variety of decorated floats. Some floats are built on top of vehicles like trucks, and some can be built on flatbeds, pulled behind trucks or tractors. The first floats were introduced in the Middle Ages. They are named "floats" because they were decorated barges on the River Thames. Floats today are elaborately decorated to coordinate with themes.
• Mardi Gras Indians
One of the many secrets of the Mardi Gras tradition is the Mardi Gras Indians, African-American revelers who dress in spectacular costumes inspired by Native American ceremonial outfits. Though a list of scheduled parades is published by the various Krewes, you will never see Mardi Gras Indians on that list. Their routes are secretive and they go where they want to go.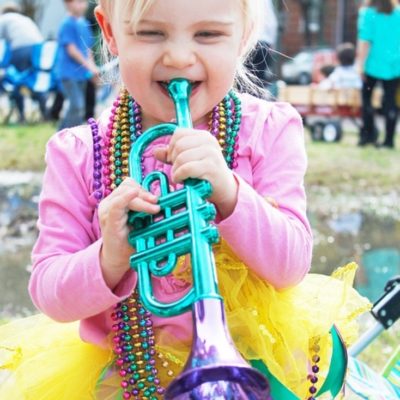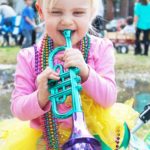 • Treasures of Mardi Gras
Beads are not the only thing thrown from floats. An assortment of trinkets is common, though beads of all sizes and varieties are the standard throw – the more the merrier. The Krewe of Zulu in New Orleans began throwing coconuts as a cheap alternative to glass beads, and for many years real painted coconuts were thrown. Some were painted gold; some were painted with Zulu faces. They were extremely difficult to get, especially since the Zulu parade meandered throughout New Orleans with no set route. To find the parade and catch a coconut was a difficult task. Today the parade has a set route and, since 1988, the City of New Orleans forbade them being tossed into the crowd to avoid injuries. Instead, they must be handed out, making them even more difficult to get.
• Doubloons
Doubloons are large wood or metal coins made in Mardi Gras colors which are thrown from floats. Standard doubloons usually portray the Krewe's emblem, name, and founding date on one side, and the theme, year of the parade and ball on the other side. They are often kept as collector's items. Original Rex doubloons, from the Rex parade in New Orleans, are valuable, but it's almost impossible to find a certified original Rex doubloon.
• Mardi Gras Costumes
Much like Halloween, it is customary to dress up in costume on Mardi Gras Day, from elaborate to indecent (particularly on Bourbon Street in New Orleans). Contests are held for the most creative costumes and often you can see whole families dress up, even the family dog.
• Flambeau Carriers
Before parades used electric lighting, Flambeaus (meaning flame-torches) were carried to allow New Orleans parade-goers to enjoy the spectacle of night parades. The first flambeau carriers were slaves. Today, flambeau carriers are a valuable contribution to a night parade and many people view it as a kind of performance art. It's customary to toss quarters to them in thanks for carrying the lights for the parade, though dollar bills are appreciated even more. Many flambeau carriers are descendants from a long line of carriers.
• Independent parades
Several years ago, independent parades were formed to accommodate people who wanted to ride on floats in the New Orleans area on Mardi Gras Day but not be involved with a Mardi Gras Krewe. These independent floats are also decorated and riders dress in costumes to match the theme of the float. These parades can be quite long and go on for hours.
We hope that Mardi Gras Trivia (Part I) and this blog, Part II, will awaken a desire in you to experience the adventure of Mardi Gras. If you've never been, it really cannot be explained; you just have to experience it for yourself.
Book Now at The Stockade Bed and Breakfast to ensure your stay with us during this exciting time of year.