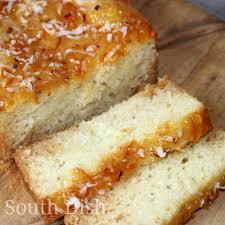 2 c. flour
3 tsp. baking powder
1 tsp. salt
¼ tsp. baking soda
1½ c. orange marmalade
1 egg
¾ c. orange juice
¼ c. oil
1 c. pecan pieces
Preheat oven to 350º.
In a large bowl combine flour, baking powder, salt and baking soda.  Reserve ¼ cup of the marmalade and set aside. In a separate bowl mix together 1¼ cups marmalade, egg, oil, and juice. Add the wet ingredients to the dry and mix well. Stir in the nuts. Pour into a greased loaf pan and bake at 350º for 50 to 60 minutes.
When done, cool briefly and then remove the bread from the pan.  Place the bread in a baking dish, glaze with the reserved marmalade and return to oven for 1 minute.  Place on a rack and cool completely before slicing.  This bread will be easier to slice if you chill it beforehand.
This recipe comes from my fellow B&B owner Sally Crochet of Crochet House Bed & Breakfast in Houma.