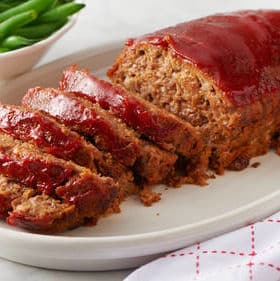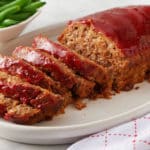 This meatloaf is so tasty and juicy, you will want to invite guests over just to serve it to them. Takes a while to put together and prepare with many ingredients, but so well worth it!
Meatloaf Ingredients:
2 lbs. ground beef
½ lb. Italian sausage (cut out of casing)
1 medium onion, finely chopped
3 garlic cloves, finely chopped
2 large eggs
3 Tbsp Ketchup
3 Tbs. fresh parsley, finely chopped
¾ cup Panko breadcrumbs (plain)
1/3 cup milk
1 ½ tsp salt
1 ½ tsp Italian seasoning
¼ tsp ground black pepper
½ tsp ground paprika
Meatloaf Sauce Ingredients:
¾ cup Ketchup
1 ½ tsp white vinegar
2 ½ Tsp brown sugar
1 tsp garlic powder
½ tsp onion powder
¼ tsp ground black pepper
¼ tsp salt
Instructions for meatloaf:
Line a 9" x 5" loaf pan with parchmeAdd Newnt paper and preheat oven to 375 degrees F. (Or line a deep baking pan with non-stick aluminum)
In a large bowl, add all of the ingredients for the meatloaf. Mix well to combine. (I like to mix the dry ingredients separately and then put them together.)
Add meat to the loaf pan and gently press meat down and shape evenly (or shape into loaf if using a baking pan).
Bake meatloaf at 375 degrees F for 45 minutes.
Instructions for glaze:
In a small bowl, mix all of the ingredients together for the sauce. Spread the sauce over meatloaf and bake an additional 20 minutes or until the internal temperature is 160 degrees F. Rest meatloaf 10 minutes before slicing. Drizzle with baking juices from the pan.
(Photo courtesy of Betty Crocker)
(Recipe not from Betty Crocker)