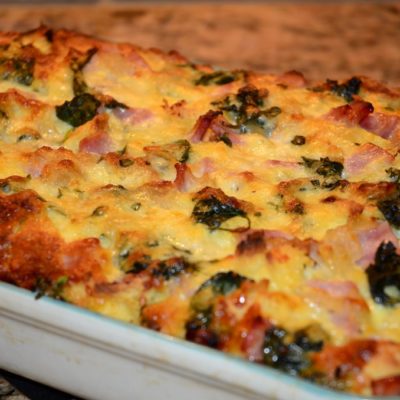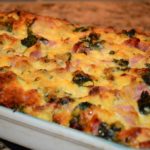 Not your typical bread a pudding. This can be made in a 9X13 Pyrex casserole dish, or 8 individual 8 oz circular ramekins.
Ingredients:
¼ cup butter
2 leeks, thinly sliced (pale green parts only)
1 (6-ounce) package fresh baby spinach
1 (18-ounce) loaf challah bread, cut into small cubes
2 cups chopped cooked ham
2 cups shredded Gruyere cheese
1 (5-ounce) package shredded Parmesan cheese
2 tablespoons minced fresh thyme
5 large eggs
2 cups heavy whipping cream
½ cup whole milk
¼ cup Dijon mustard
Directions:
In large skillet, melt butter over medium heat. Add leeks and cook 3 to 4 minutes. Add spinach and cook another 2 to 3 minutes, or until spinach is wilted. Remove from heat and set aside.
Spread half of bread cubes evenly over bottom of greased 13-by-9-inch casserole dish. Top evenly with half of ham. Spread half of spinach mixture over ham.
In medium bowl, combine cheeses and thyme. Sprinkle half of this mixture over spinach.
In another medium bowl, whisk together eggs, cream, milk and mustard. Pour half of egg mixture evenly over casserole. Repeat layers, beginning with bread and ending with egg mixture.
Cover and refrigerate overnight. When ready to bake, let sit out 30 minutes.
Bake at 375 degrees, uncovered, for 45 to 60 minutes.
(Posted by Miz Kathleen, The Innkeeper on Apr 22, 2014 in Recipes)