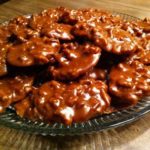 Pralines can be found in shops all throughout Louisiana. Why not try to make your own using this simple New Orleans recipe.
Ingredients:
1 c. white sugar
1 c. light brown sugar packed
½ c. evaporated milk
4 T. butter
2 t. vanilla extract
1½ c. toasted pecans
Directions:
Put sugars and evaporated milk in a 4 quart saucepan and cook on medium-high heat stirring constantly until 240 degrees Fahrenheit on candy thermometer. Add butter and vanilla, continuing to stir. Next, add pecans until blended.
Drop spoonfuls onto buttered parchment paper until cool (about 25 minutes).
Want to know more about Pralines? Click here: Oooey-Gooey Pralines – What's Not To Love?