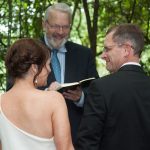 So you've met the guy or gal of your dreams and it's time to start your "Happily Ever After!" Sometimes, the most romantic and practical thing you can do for your relationship is to be a Runaway Bride and "Just Simply Elope"! Not everyone needs an entire day to marry and move the relationship into the next phase. Elopement may be the answer. It honestly is a display of love in its truest form.
With that in mind, The Stockade Bed and Breakfast offers an Elopement Package as part of its wedding packages. Our Elopement Package is inclusive of what most brides and grooms want as part of their event. Keep it simple or enhance the event by making it as elegant as you desire. You can choose to add on a Romance Package, Rose Petal Turn-Down Service or Wine and Hors d'oeuvres. Our elopement package includes a 1-night stay, though more nights can be added. If you wish, we will arrange for a photographer to capture all the memories of your event for an additional cost.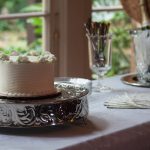 The success of a recent elopement ceremony held at The Stockade is evident in this review by the bride: "Elopement at The Stockade Bed and Breakfast: We had a small elopement ceremony at The Stockade on June 2016! I did not want to plan anything myself so I contacted Janice, the innkeeper. She took care of scheduling everything for us… Cake, pictures, minister, etc. It was more than we could ask for. Everything was beautiful!!! We stayed in The Rex room which was huge and more inviting than expected. The staff is so friendly and the breakfast was excellent! My husband and I can't wait to go back and stay again. It was an amazing experience… Highly recommend to anyone."
The reasons people elope are many – less stress, less expense, less family drama, the feeling that the marriage is the important part, not the ceremony. Even those who decide to have a big wedding often think, at some point in the planning, "Why didn't we just elope???" Check out our Elopement Package to determine if this is right for you and if you're ready to be a Runaway Bride. Give The Stockade a call to book your special romantic elopement wedding today!