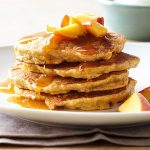 INGREDIENTS:
2 cups all-purpose flour
3 teaspoons baking powder
1/2 teaspoon salt
1 tablespoon sugar
1 egg, well beaten
1 1/2 cups milk
2 tablespoons melted butter
1 cup peeled fresh peaches, chopped
Cinnamon-Sugar Topping:
1/4 cup granulated white sugar
1 tablespoon cinnamon
Mix together
DIRECTIONS:
Mix flour, baking powder, salt and sugar in large bowl.
In another bowl, combine egg and milk
Add dry ingredients to wet ingredients and beat until smooth
Add melted butter
Add peaches and mix well.
Cook on ungreased, hot griddle.
Serve hot with more butter and Cinnamon-Sugar Topping.