Garlic Cheese Grits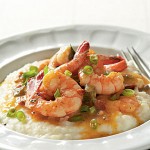 • 6 c. cooked grits
• 2 c. cheddar cheese
• 2 tbsp. Worcestershire Sauce
• 1 tbsp. Tony's seasoning
• 1 tbsp. paprika
• 1 stick butter
• 4 oz. Philadelphia cream cheese
Shrimp in Sauce
• ¼ c. olive oil
• ¼ c. finely chopped tasso
• 1 c. cloves of garlic (finely chopped or mashed)
• ½ c. diced onions
• 2 lbs. med. Shrimp (deveined, shelled, heads removed)
• ½ c. white wine
• 1 c. half and half
• ¼ dried shrimp
• 1 c. chopped green onions
Cook grits according to package directions. Add the rest of the ingredients and whisk. Pour into buttered 9″ x 13″ dish. Sprinkle with paprika and bake at 350˚ for 30 minutes.
To make the shrimp sauce, sauté Tasso in olive oil until crisp, then remove and save in small bowl. Add ¼ c. green onions, garlic, and green pepper and sauté until wilted. Then add shrimp and toss until pink. Remove shrimp and set aside.
Deglaze pan with white wine and then add half and half, seasoning, and reduce until slightly thickened. Put Tasso, cooked shrimp, and dried shrimp into sauce.
Serve over Garlic grits and garnish with green onions.
This recipe was featured in the Baton Rouge Advocate among other great recipes from Bed and Breakfasts in the area.