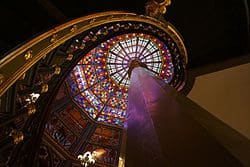 Visiting museums or historical places to see amazing painted or stained glass ceilings may strain your neck, but the stained glass in the rotunda of the Old Louisiana State Capital is very much worth it.
The explosion of colors in the glass dome ceiling dates back to the 1880's. Architect and engineer, William A. Freret, is credited with the installation of the cast iron spiral staircase and the stained glass dome, noted focal points of the building. This capitol building, which sits on the banks of the Mississippi River in Baton Rouge, Louisiana is now the Museum of Political History.
The staircase and stained glass dome were not in the initial building. Originally, the Old Capitol had three floors with a skylight of some type. It is not known where the original staircase was located, but it is known that many people complained that the building was very dark. In 1882, the old statehouse was reconstructed and a fourth floor was added along with the free-standing cast-iron staircase and stained glass dome.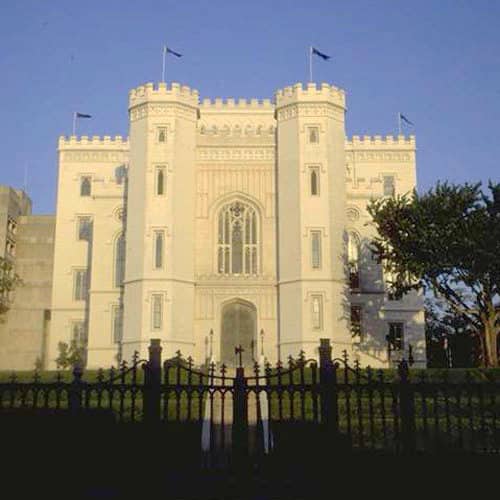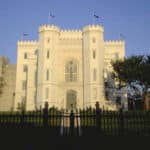 The Old State Capitol was built to look like a castle, thus is also called the Louisiana Castle, the Castle of Baton Rouge, the Castle on the River, and other such names. Looking at the building from the outside, one would never know it has a stained-glass dome inside, which is a delightful surprise to visitors as they walk in. No trip to Baton Rouge would be complete without visiting the Old State Capitol.
For more information about the Old State Capital, check out our blog, Old Louisiana State Capital: A Historic Treasure.
The Capitol is located in Downtown Baton Rouge, an easy drive from The Stockade Bed and Breakfast. Be sure to include it in your itinerary when you stay with us.