2 eggs per person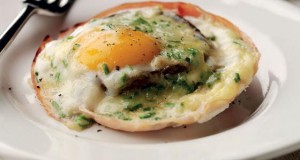 1 tablespoon grated cheese 1/8 teaspoon Worcestershire sauce Dash of Cajun Seasoning Paprika Parsley flakes ½ slice of cooked crumbled bacon per egg
Spray small muffin tin with non-stick spray.  Scramble eggs slightly and put in muffin tin.  Sprinkle cooked crumbled bacon over egg.  Add Worcestershire sauce and Cajun seasoning.  Top with grated cheese, and then sprinkle lightly with paprika and parsley flakes.
Bake at 350 degrees for about 15 minutes, or until center is not runny.
Serve hot with Hollandaise sauce on top, sprinkled with paprika or parsley for garnishing.