1-12 oz. package of seasoned croutons
12 eggs
1 c. half and half
4 oz. Rotel tomatoes
1½ c. grated cheese
1 bunch green onions, chopped
¾ c. red and green bell pepper, chopped
1 stick butter
Tony Chachere's seasoning
½ tsp. basil
½ tsp. oregano
pie crust (optional)
Preheat oven to 350º.
Butter 9″ x 13″ casserole. Spray casserole dish with Pam cooking spray and sprinkle croutons in. Sauté green onions, bell peppers in butter until soft. Pour over croutons. Cover with cheese. Mix eggs, half and half, Rotel tomatoes, seasoning, and spices together. Pour mixture in casserole dish. Sprinkle top with chopped parsley and paprika. Bake at 350º for approximately 45 minutes or until done.
Optional: Casserole may be poured into a pie crust, as in photo above. Bake pie shell for a few minutes before adding mixture, then back as directed above.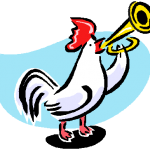 This is our most versatile dish and should be prepared to fit each cooks' taste. Feel free to add sautéed spinach, cooked asparagus, or even enjoy this dish without the croutons! Make it your own!