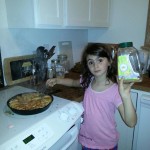 While my sister Jacqueline's kids were infants, I went to France to help out. They had an apple tree in the backyard which produced a LOT of apples, so I was always looking for a dish that used them.  Therefore, I started making Tart Tatin, which is simply divine apple pie.  When I made it for dinner parties, everyone said "OOO LA LA!"
Ingredients
Frozen puff pastry sheet (from a 17 1/4-ounce package)
1/2 stick (1/4 cup) unsalted butter, softened
1/2 to 3/4 cup sugar depending upon the tartness of the apples
7 to 9 Gala apples (3 to 4 pounds), peeled, quartered lengthwise, and cored. You may use other varieties, but a hard, tart apple works best.
Preparation
Preheat oven to 425°F.
Roll pasty on flour to the shape of 10" iron skillet with enough over the edges of the pan to tuck in.
Spread butter thickly on the bottom and side of the skillet and pour sugar evenly over the bottom. Arrange as many apples as will fit vertically on sugar, packing them tightly in concentric circles.
Cook apples over moderately high heat, undisturbed, until juices are deep golden and bubbling, 18 to 25 minutes.
Move skillet to oven and bake 20 minutes, then remove from oven and lay pastry over apples and tuck into pan.
Bake tart until pastry is browned, 20 to 25 minutes. Cool 10 minutes or more.  You can re-warm if necessary.
Just before serving, invert tart onto platter.  Serve immediately.
---
JD's Comments:
I don't know what variety of apples that I was using in France, but use what you ordinarily would to make your homemade apple pie. You can put whipped cream on top or serve with ice cream.  C'est delicieux!