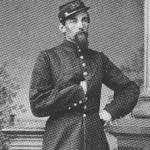 Did you know that The Stockade Bed & Breakfast got its name from the Civil War Highland Stockade that was once located on its grounds? The Highland Stockade was a strongpoint built by Union troops to protect the southern entrance into Baton Rouge. In fact, archaeological investigations have unearthed four clusters of artifacts on our property, including four Civil War-era bullets, a brick feature, and several personal items.
According to an account written by Guy C. Pierce, Lt. Major 4th Wisconsin Cavalry, Captain Pierce and his Company went with Major Craigne on November 7th, 1864 and occupied the Highland Stockade, which had been built by Major Craigne just the year before. Their job consisted of guarding the river and preventing the rebels from transporting salt and beef from western LA and Texas across the river.
The Highland Stockade remains an important historic site and is listed on the National Register of Historical Places. It's a perfect example of the small camps and check-points the Union constructed to guard major roads leading into cities. The Stockade's rich historical significance makes it an ideal spot for history lovers to visit — so if you or someone you know is a Civil War buff, why not book a room today?
SOURCES:
http://www.crt.state.la.us/hp/nationalregister/nhl/document2.asp?name=17072001.pdf&title=Highland+Stockade
Image courtesy of http://www.hughesfamilies.com/fourth/index.cfm?FuseAction=SoldierDetail&RosterID=1680
Our beautiful Christmas décor. Each year, Janice sets up a 10-foot Christmas tree in the main room that is gorgeously decorated, and the stockings are always hung by the chimney with care.
Convenient location. We're located 3.5 miles from the Mall of Louisiana, where you can get all of your shopping done in one place!
Feel at home away from home. If you're visiting relatives in Baton Rouge, why not stay in a place where you can feel right at home?
Unwind from holiday stress. The holidays are stressful. After spending all that time with your in-laws and rushing around crowded malls, you deserve a break. Unwind and treat yourself with a night at The Stockade!
Enjoy our Kris Kringle Holiday Package! Enjoy a special beverage upon arrival, and then snuggle up in your room with a mini basket of Miss Ida's homemade pralines and fudge. You'll also receive a holiday stocking filled with authentic Louisiana treats, and assorted gift bags and tissue paper to help with holiday wrapping. The package includes a two-night stay, so you will have plenty of time for shopping and wrapping all your goodies.
Don't wait — book your room today!
I've been the innkeeper at The Stockade Bed and Breakfast for nearly 18 years, and I probably wouldn't do it if it weren't for the guests. Over the years, I've met all sorts of people from all over the world. We talk about where they're from, what they do, and why they're here. Getting to know the guests is the best part of my job, so it always makes me smile when I read a glowing review — it's nice to know that guests enjoy staying as much as I enjoy having them!  Here's a sample of what people are saying about The Stockade:
Best of the Best
"This Bed and Breakfast is truly a gem and innkeeper Janice made the experience extra-special. The landscaping was beautiful. You can tell that the Stockade is a labor of love. The decor was eclectic and fully in keeping with the personality of the inn. Janice has an artist's eye and a heart of gold. The breakfasts were delicious and it was lovely to sit and relax and chat comfortably in the beautiful dining room. My wife and I would highly recommend a stay at the Stockade. You will be in for a treat!"
Great Location, Great Service, Great Breakfasts!
"We had a very nice stay at The Stockade. The owner and her staff were extremely helpful and hospitable. The breakfasts were incredible and included some of the best blueberry pancakes we've ever had! The room and the entire inn was beautiful, comfortable, and clean."
—Review from BedandBreakfast.com
Bill Compton Was Here
"He signed the guest book too! I really wanted to see the place where they filmed the French restaurant in the show True Blood …I was so excited! I didn't know what to expect from a bed and breakfast like this one. To my delight, the bed was very comfortable. They have free Wi-Fi and very nice amenities. The whole place just feels so much like home. You could easily grab one of the many books available and a soda and just curl up on the sofa in the main room. It's so quiet and peaceful …"
A Hidden Gem
"We stayed in the Garden Room for our 26th anniversary in May for two nights. It's very romantic, quiet, and relaxing … Being a career military man, I was also attracted by the historical significance of the site. We plan on staying in the Blue Room next and we've recommended this B&B to all of our friends."
—Review from BedandBreakfast.com
The BEST Southern Hospitality Ever!
"My husband and I have stayed in B&B's internationally and agree that this is our best experience. The grounds are beautiful, the home is gorgeous and the traditional country breakfast is 'the icing on the cake!' Furnished from room to room with antique furniture and rugs, the interior wraps you in warmth and elegance! Thanks for a wonderful visit, Janice. We'll be back soon."
—Review from BedandBreakfast.com
 A Beautiful Place to Stay
"We liked The Stockade so much we extended our stay to three instead of the planned two days. This place is just so comfortable. The grounds are lovely. There are places inside and out to just sit and relax. It is CLEAN! Breakfasts were always hearty and delicious. Janice is a charming hostess with a great sense of humor. We truly felt welcome. I would not even think of staying anywhere else if we ever get back to Baton Rouge."
So what are you waiting for? Make a reservation today!