In South Louisiana, we call this "Midnight Gumbo." This name has a double meaning — it is the midnight color of the roux, and it's the time of night the gumbo will be finished if you're cooking with friends and having a ball! I do suggest recruiting some help for this dish, as it is a labor of love, but it's well worth the effort when you savor the flavor. When my dear friend Chef Kenny was asked for the secret ingredients for this dish, he replied, "My heart and soul!" I usually double this recipe and put some in the freezer.
1 chicken
1 pound Andouille sausage
1 cup oil
1 ½ cups flour
2 cups diced onions
2 cups diced celery
1 cup diced bell peppers
¼ cup minced garlic
3 quarts chicken stock
1 can Rotel tomatoes
1 bay leaf
sprig of thyme
1 tablespoon chopped basil salt and cracked pepper, to taste
2 cups sliced green onions
2 pounds sliced okra
½ cup chopped parsley
4 cups cooked white rice
Prep Time: Approximately 1 hour
Cooking Time: Approximately 1 hour
Directions: Wash chicken and season with salt and pepper. Boil in stock pot until done. Remove chicken, cool, and de-bone. Save stock. Cut chicken into bite-sized pieces. Cut the Andouille into ½ inch slices and set aside. Begin roux with oil and flour. Carefully darken to dark brown without burning. Add onion, celery, bell pepper, and garlic to soften. Add stock, Rotel tomatoes, and spices. Simmer for approximately one hour. Sauté okra in small amount of oil to soften. Add to the stock pot. Cook sausage in skillet or oven and add to stock. Cook another ½ hour or so. Lastly, add chicken, green onions, and parsley. Simmer until chicken is warm. Serve gumbo over rice with some fresh cut green onions and a little Filé for garnish.
Note: Filé is ground sassafras used to thicken and flavor Creole dishes.
When it comes to Mardi Gras floats, costumes, and beads, bigger and flashier is always better. So if you're decorating your home for Fat Tuesday, you'll want to make sure to choose decorations that capture all the drama of Carnival season. Here's a simple DIY project that will add some Mardi Gras flair to your front door!
You will need:
2 rolls of deco mesh in Mardi Gras colors ($5—$15, craft stores)
1 garland (we used a fake pine garland left over from Christmas)
twist ties / pipe cleaners
hammer and nails
ladder
ornaments (optional)
Step 1.
Hang the garland by securing nails into the doorframe. For a brick surface, Tapcon screws can be drilled into the mortar joints (the white lines between bricks).
Step 2.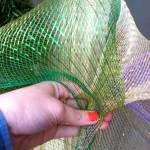 Once your garland is secured around the door frame, it's time to attach the first sheet of deco mesh. Unwrap the deco mesh and pinch the end together, securing with a twist tie.
Step 3.
Secure the mesh to the garland using a twist tie, or if your garland has wire branches (like ours), by wrapping the garland around the mesh.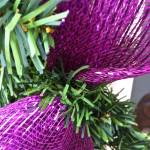 Step 4. 
Continue attaching the mesh to the garland, placing a twist tie or branch every 7 or 8 inches. This will create a "bubble" in the deco mesh. Don't worry — the bubbles don't have to look perfectly round, and it actually looks better if they don't! Note: Make sure you're not wrapping the mesh around the garland, but rather securing it only on the front side. When you're finished, your garland should look like this: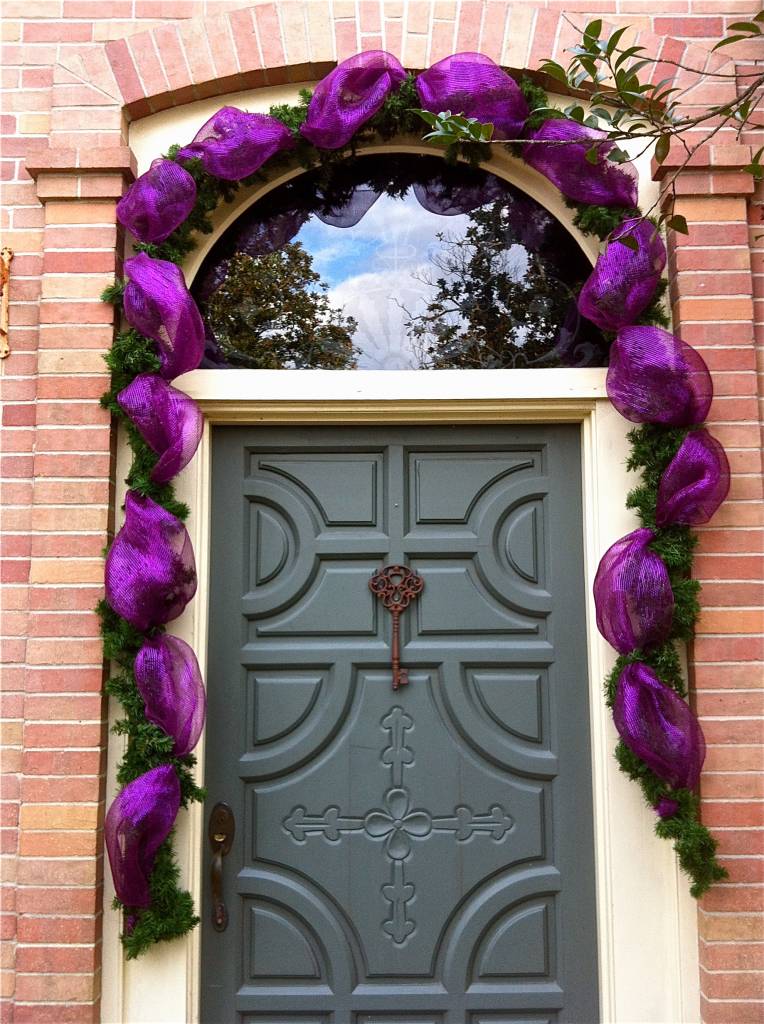 Step 5.
Once you've finished attaching the first sheet of mesh, it's time to add the second. We tried to attach ours so that the "bubbles" alternated in color. Finally, add ornaments by hanging them onto the garland and add a wreath for a finishing touch! (We made our wreath by using two sheets of deco mesh and using the same method used for the door frame).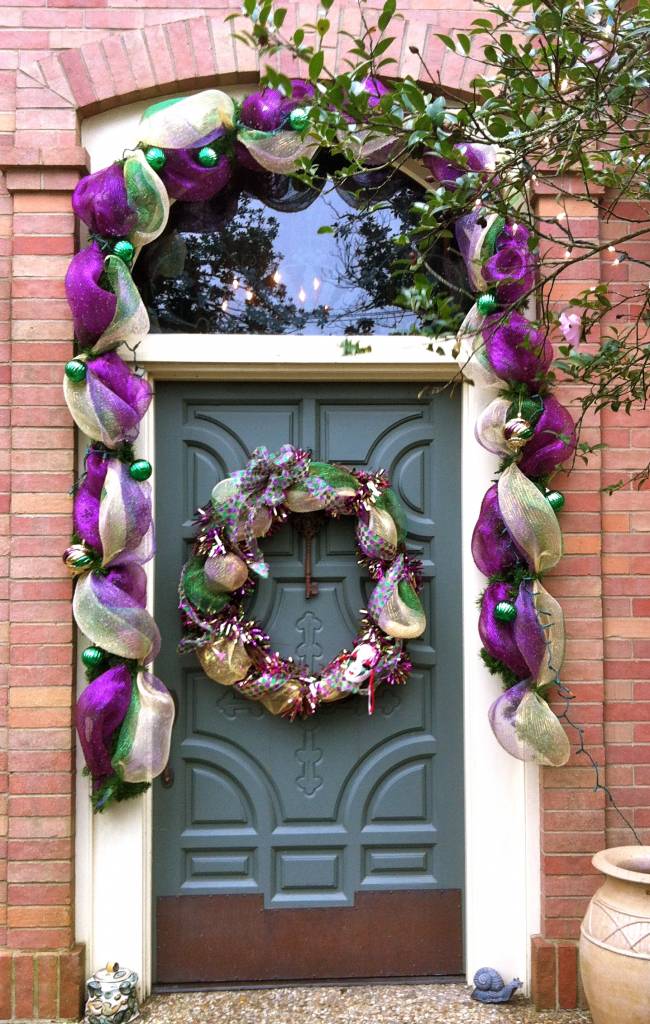 Voila! Now that your door is fully decorated, it's time to invite some friends over and laissez les bon temps rouler!
You've probably heard Louisiana referred to as "Sportsman's Paradise," since our state is teeming with wildlife and provides the perfect retreat for birdwatchers, fishermen, and outdoorsmen. But did you know that the National Wildlife Federation has recognized The Stockade Bed and Breakfast as a certified Backyard Wildlife Habitat site?
According to the Backyard Wildlife Habitat Program, The Stockade has been certified in the National Wildlife Federation's worldwide network of "mini-refuges where, because of the owner's conscientious planning, landscaping and sustainable gardening, wildlife may find quality habitat — food, water, cover, and places to raise their young."
Although most guests at The Stockade are only able to catch a glimpse of our wildlife, there are many species that live on our eleven-acre property. I've spotted foxes, opossums, bats, snakes, raccoons, all kinds of birds (including barred owls, barn owls, and screech owls) and deer sign.
In addition to the wildlife, the property is also home to several native Louisiana plant species, including cypress trees, oak trees, pecan trees, crape-myrtles, camellias, and magnolias.
So if you went on down to the Audubon Zoo and they all asked for you, chances are you'd feel right at home staying among the amazing wildlife at The Stockade Bed and Breakfast!