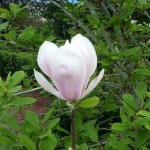 South Louisiana, like much of the United States, experienced more than its share of unusually cold weather this winter.  Phrases like "polar vortex" were being used by weather forecasters – a term people in the south are definitely not familiar with.  All we know is that it was COLD – really COLD.  Snow, sleet and frozen fountains were a little too common in the South this past winter.
South Louisiana is not exactly a tropical area, but we do have somewhat fragile plants that grow here which don't tolerate very cold or frozen temperatures.  Try as we might, it was difficult for us to cover and protect many of our plants, and now that Spring is officially here, we are all taking stock of what's left and replacing plants that didn't make it.
At The Stockade, we are happy to say that our plants are finally coming to life, albeit a little late.  And we couldn't be happier!  Take a walk with us around The Stockade gardens and see what plants and flowers are springing to life!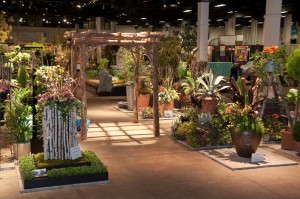 There may never have been a time when Southerners anticipated the coming of Spring as this year, after such a long, cold winter. If that describes you, head on over to Baton Rouge for the 12th Annual Baton Rouge Spring Garden Show, set for March 29th – 30th at the John M. Parker Coliseum (LSU) on Highland Road in Baton Rouge.  The show is located 13 minutes from The Stockade Bed and Breakfast. Make your room reservations at The Stockade now so that you can enjoy both days.  http://thestockade.com/guest-rooms.
This show will include local nurseries and other vendors selling plants, tools, pots, ornaments, landscaping materials and so much more. Children's activities also will be available.
In addition to the Spring Garden Show, there will be other events going on at the Coliseum during that weekend, as well:
Choose one or all shows for a fun-filled weekend.

The Stockade Bed and Breakfast, which is certified as a Backyard Wildlife Habitat by the National Wildlife Federation, is committed to sustainable practices and protecting the environment. That's why we are a big believer in composting — a simple and effective way to be more eco-friendly!
According to the Environmental Protection Agency, the largest contributor to landfills in America is food waste; in 2009 alone, 34 million tons of food waste was produced. Once food waste is dumped in a landfill, it is unable to be reused for the environment.
There are numerous benefits of composting. Not only does composting prevent food waste from ending up in a landfill, but it also adds nutrients to soil, encourages healthy plant roots, saves water by helping the soil to retain moisture, reduces soil erosion, balances pH, and decreases the need for petrochemical fertilizers.
Here are some things that you can chop and use for compost. For best results, use a mixture of browns and greens to ensure a good carbon-to-nitrogen ratio:
"GREENS"
coffee grounds and filters
tea bags
citrus rinds
fruit and vegetables
ground eggshells
"BROWNS"
grass
pine needles
shredded cardboard or newspaper
wood
Source: http://anrcatalog.ucdavis.edu/pdf/8367.pdf