Our Blog
Dearest Guests,
In the tradition of Southern hospitality, we would like to share the following article from the Huffington Post with you.  Sometimes, we innkeepers get frustrated doing our best to engage with our guests for a more pleasant B&B experience.  Since you are coming to stay in our homes, we want to make sure that you have the best possible experience.  Help us help you!  Communicate with your innkeeper.  The more we know, the more we can be of service.  If things change, keep the innkeeper in the loop.
The ever-changing world of technology has changed the way innkeeping works for us.  But the desire to please our guests is still the most important thing.  You are our newfound friends for the duration of your stay.  We are honored that you have chosen to stay at our homes.  We hope you recognize that we are running a race with limited staff and need time to accomplish things like housekeeping, maintenance, and grocery shopping — all the things that are necessary to ensure your comfort. Innkeeping is like having a really large family with lots of different interests and activities.  The Smith family has come to visit with their LSU freshman daughter Daniella whose birthday is tomorrow, the Black family is attending their son's graduation ceremony and Mr. White has a very important board meeting in the morning.  My goal is to make sure that all of our guests have their needs met.
Serving as the president of the Louisiana Bed and Breakfast Association has given me the opportunity to know many innkeepers.  What we all have in common is the love of the calling, the opportunity to preserve history on our individual properties and the opportunity to share what we have with our guests.   Beyond that, it is work, work, work, just  like any other job.  The income barely covers the cost of doing business, but it helps to offset the costs of maintaining the property, and offers the innkeeper a lifestyle which can be fun.   Did I mention that it is WORK, WORK, WORK?
All kidding aside, it is a privilege to know some of the most wonderful, interesting people who have chosen innkeeping as their calling.  I am blessed to have many of them as my close, personal friends.  In our kitchen hangs a framed saying which reads "Kiss the Cook."  From time to time, somebody actually does!  Well, kiss mah grits, nothing could be better.  And if you want my recipes, you are welcome to them.  Just don't expect me to know "exactly" what is in them besides my heart and soul.
I guess the point is that we're happy to have you stay with us.  And if there is anything that you need, please ask.  We are happy to help, but can only do so if we are aware of your needs.

Yours in Hospitality,
Janice DeLerno, Innkeeper
---
The Stockade Bed and Breakfast is proud to announce our participation in this year's B&Bs for Vets program, sponsored by the Better Way to Stay campaign.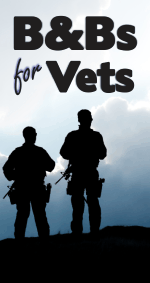 Each year, the B&Bs for Vets program allows participating innkeepers from across the U.S. and Canada to offer free rooms to vets. This year, more than 250 innkeepers will offer free rooms on November 10 or 11 so that those who've served their country can celebrate Veterans Day at an inn or B&B, free of charge.
Here at The Stockade, veterans will be eligible for a free one-night stay on either November 10 or November 11, 2013 (military ID required). Rooms are subject to availability, and interested veterans should call for reservations.
B&Bs for Vets is an industry-wide effort to thank active and retired military and vets for their service to our country. To learn about inns and B&Bs participating in the program and their offers for vets, visit http://www.betterwaytostay.com/current-promotions/bbs-for-vets/.
---
The Stockade's own Charmaine James was named Housekeeper of the Year by the Baton Rouge Lodging Association (BRLA) in a luncheon held on September 12.
Master of Ceremonies Chris Savoca, executive officer at Travel Media Network, addressed the BRLA members in a speech about the Baton Rouge hospitality industry. He commended the Baton Rouge Area Convention and Visitors Bureau for helping the city to become one of the nation's culinary hotspots and urged members to continue to go the extra mile in order to make guests' travels memorable.
"As we say in Louisiana, give guests a little 'lagniappe,' and see the response you get," he said.
Savoca also spoke about the importance of each individual member of a hotel's staff.
"Every person is as vital as every other person who holds a position in a hotel," he said. "Today is about acknowledging the housekeepers who work day in and day out to provide that 'wow factor.' We appreciate all your hard work and everything you do to secure the comfort and security of our guests."
Sixteen housekeepers from hotels and inns across Baton Rouge were honored with the distinction of Housekeeper of the Year, and each honoree also received a gift basket containing tokens of appreciation from local tourism professionals.
James, who is employed at The Stockade through Advantage Personnel, was nominated by Cynthia Shelmire, an industrial employee consultant at Advantage.
"Charmaine is a wonderful person who takes pride in her work and does an incredible job," said Janice DeLerno, innkeeper at The Stockade Bed and Breakfast. "She fully deserves this recognition for her hard work, dedication, and professionalism. I'm grateful for all of my talented housekeepers — Charmaine, Sissie, and Shemica — and  for everything they've done for this business."
---
Members of the Louisiana Bed and Breakfast Association (LBBA) attended a conference at the St. Landry Parish Tourist Information Center in Opelousas on Wednesday, July 17, 2013.
The one-day conference included various speakers, including Kyle Edmiston from the Louisiana Office of Tourism, who was happy to report that tourism is the best it has ever been in the state. Kim Walker with 5 Stones Media spoke on "Growing Your Business with Social Media and Email Marketing". "Search Engine Optimization" was the topic for Lisa Kolb with Acorn Internet Services, and Laine Garner with the Louisiana Travel Promotion Association (LTPA) gave innkeepers tips on "Packaging Your B&B."
Following a general membership meeting, the innkeepers were taken on a FAM (Familiarization Tour) of two B&B's in Washington, Louisiana – Country House Bed and Breakfast and Camellia Cove Bed and Breakfast. The evening was concluded with dinner at the Steamboat Warehouse Restaurant.
One of the most valuable aspects of the day was the networking between innkeepers throughout Louisiana. Innkeepers had the chance to meet one other, learn about each inn, and share ideas. Such connectivity helps innkeepers to provide a better B&B service.
The Louisiana Bed and Breakfast Association is made up of Louisiana's finest bed and breakfast establishments. Bed and Breakfasts approved by the Louisiana Bed and Breakfast Association must meet a rigorous approval process including board certification and inspection.
[This post originally published here on the Louisiana Bed and Breakfast Association website.]
---
I've been the innkeeper at The Stockade Bed and Breakfast for nearly 18 years, and I probably wouldn't do it if it weren't for the guests. Over the years, I've met all sorts of people from all over the world. We talk about where they're from, what they do, and why they're here. Getting to know the guests is the best part of my job, so it always makes me smile when I read a glowing review — it's nice to know that guests enjoy staying as much as I enjoy having them!  Here's a sample of what people are saying about The Stockade:
Best of the Best
"This Bed and Breakfast is truly a gem and innkeeper Janice made the experience extra-special. The landscaping was beautiful. You can tell that the Stockade is a labor of love. The decor was eclectic and fully in keeping with the personality of the inn. Janice has an artist's eye and a heart of gold. The breakfasts were delicious and it was lovely to sit and relax and chat comfortably in the beautiful dining room. My wife and I would highly recommend a stay at the Stockade. You will be in for a treat!"
Great Location, Great Service, Great Breakfasts!
"We had a very nice stay at The Stockade. The owner and her staff were extremely helpful and hospitable. The breakfasts were incredible and included some of the best blueberry pancakes we've ever had! The room and the entire inn was beautiful, comfortable, and clean."
—Review from BedandBreakfast.com
Bill Compton Was Here
"He signed the guest book too! I really wanted to see the place where they filmed the French restaurant in the show True Blood …I was so excited! I didn't know what to expect from a bed and breakfast like this one. To my delight, the bed was very comfortable. They have free Wi-Fi and very nice amenities. The whole place just feels so much like home. You could easily grab one of the many books available and a soda and just curl up on the sofa in the main room. It's so quiet and peaceful …"
A Hidden Gem
"We stayed in the Garden Room for our 26th anniversary in May for two nights. It's very romantic, quiet, and relaxing … Being a career military man, I was also attracted by the historical significance of the site. We plan on staying in the Blue Room next and we've recommended this B&B to all of our friends."
—Review from BedandBreakfast.com
The BEST Southern Hospitality Ever!
"My husband and I have stayed in B&B's internationally and agree that this is our best experience. The grounds are beautiful, the home is gorgeous and the traditional country breakfast is 'the icing on the cake!' Furnished from room to room with antique furniture and rugs, the interior wraps you in warmth and elegance! Thanks for a wonderful visit, Janice. We'll be back soon."
—Review from BedandBreakfast.com
 A Beautiful Place to Stay
"We liked The Stockade so much we extended our stay to three instead of the planned two days. This place is just so comfortable. The grounds are lovely. There are places inside and out to just sit and relax. It is CLEAN! Breakfasts were always hearty and delicious. Janice is a charming hostess with a great sense of humor. We truly felt welcome. I would not even think of staying anywhere else if we ever get back to Baton Rouge."
So what are you waiting for? Make a reservation today!
---