The Stockade Bed and Breakfast, which is certified as a Backyard Wildlife Habitat by the National Wildlife Federation, is committed to sustainable practices and protecting the environment. That's why we are a big believer in composting — a simple and effective way to be more eco-friendly!
According to the Environmental Protection Agency, the largest contributor to landfills in America is food waste; in 2009 alone, 34 million tons of food waste was produced. Once food waste is dumped in a landfill, it is unable to be reused for the environment.
There are numerous benefits of composting. Not only does composting prevent food waste from ending up in a landfill, but it also adds nutrients to soil, encourages healthy plant roots, saves water by helping the soil to retain moisture, reduces soil erosion, balances pH, and decreases the need for petrochemical fertilizers.
Here are some things that you can chop and use for compost. For best results, use a mixture of browns and greens to ensure a good carbon-to-nitrogen ratio:
"GREENS"
coffee grounds and filters
tea bags
citrus rinds
fruit and vegetables
ground eggshells
"BROWNS"
grass
pine needles
shredded cardboard or newspaper
wood
Source: http://anrcatalog.ucdavis.edu/pdf/8367.pdf

When it comes to Mardi Gras floats, costumes, and beads, bigger and flashier is always better. So if you're decorating your home for Fat Tuesday, you'll want to make sure to choose decorations that capture all the drama of Carnival season. Here's a simple DIY project that will add some Mardi Gras flair to your front door!
You will need:
2 rolls of deco mesh in Mardi Gras colors ($5—$15, craft stores)
1 garland (we used a fake pine garland left over from Christmas)
twist ties / pipe cleaners
hammer and nails
ladder
ornaments (optional)
Step 1.
Hang the garland by securing nails into the doorframe. For a brick surface, Tapcon screws can be drilled into the mortar joints (the white lines between bricks).
Step 2.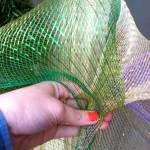 Once your garland is secured around the door frame, it's time to attach the first sheet of deco mesh. Unwrap the deco mesh and pinch the end together, securing with a twist tie.
Step 3.
Secure the mesh to the garland using a twist tie, or if your garland has wire branches (like ours), by wrapping the garland around the mesh.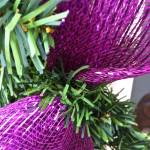 Step 4. 
Continue attaching the mesh to the garland, placing a twist tie or branch every 7 or 8 inches. This will create a "bubble" in the deco mesh. Don't worry — the bubbles don't have to look perfectly round, and it actually looks better if they don't! Note: Make sure you're not wrapping the mesh around the garland, but rather securing it only on the front side. When you're finished, your garland should look like this: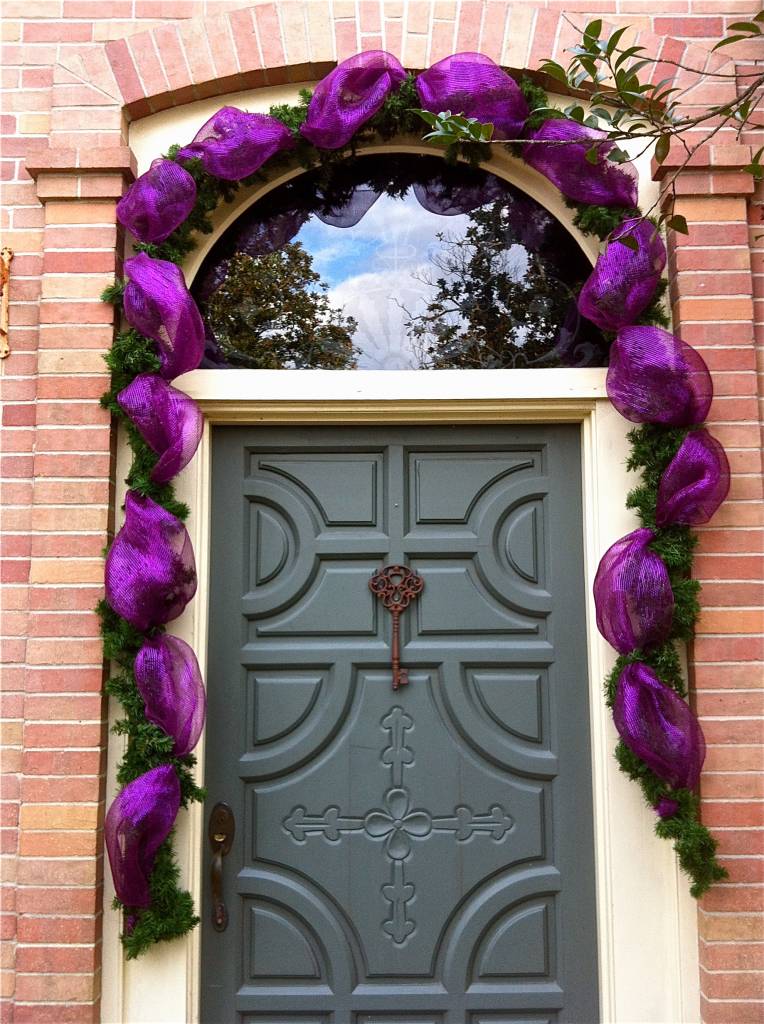 Step 5.
Once you've finished attaching the first sheet of mesh, it's time to add the second. We tried to attach ours so that the "bubbles" alternated in color. Finally, add ornaments by hanging them onto the garland and add a wreath for a finishing touch! (We made our wreath by using two sheets of deco mesh and using the same method used for the door frame).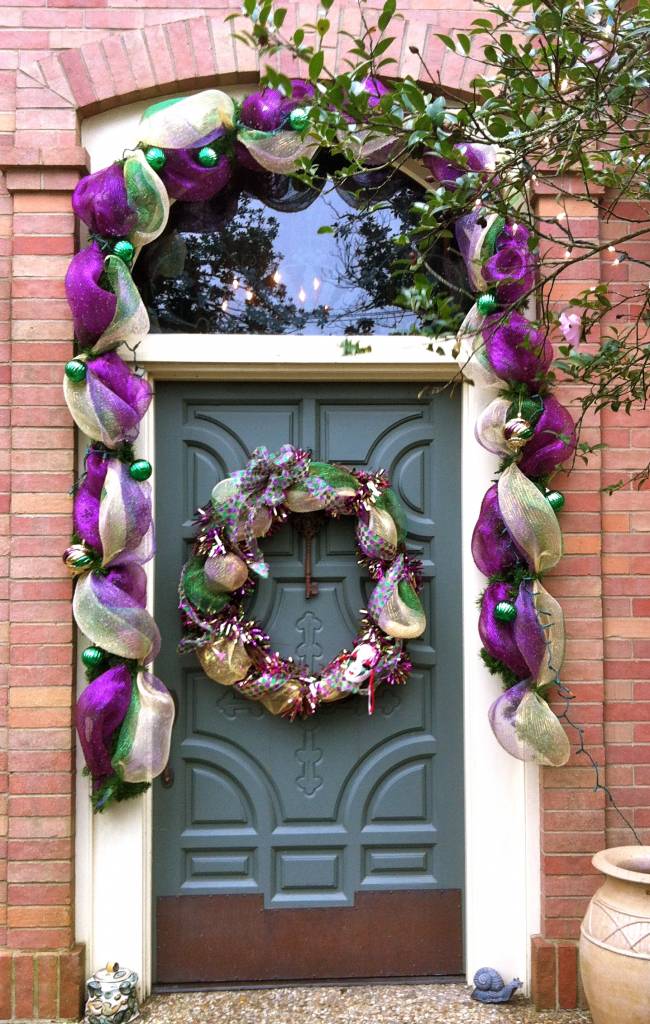 Voila! Now that your door is fully decorated, it's time to invite some friends over and laissez les bon temps rouler!