Our Blog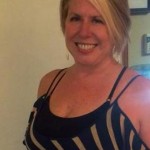 The Stockade is proud to have Janene Grodesky display her artwork with us for Highland Nights on Friday, November 14, 2014.
With a Ph.D in Kinesiology from LSU, Grodesky has a passion for studying and incorporating movement into her works. She also credits a childhood spent with a Zoologist father as influencing her love of biology and nature as reflected in her adult works. She asserts a natural interconnectedness in her expression through texture, color, and dimension. She enjoys deconstructing the "micro- world" and strives to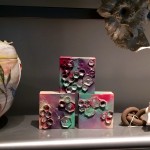 place it in the "macro," or cosmological context. Grodesky has been actively showing her work for over 10 years. She has been invited to participate in various gallery shows, juried events, and a few "outsider" collections. She won the People's Choice Award for Art Melt 2013 for her work "Lepidoptera," which deconstructs and abstracts a butterfly wing. She currently resides in Baton Rouge with her husband, three dogs, and five cats. She is co-owner of One Heart Yoga Center. She can be reached at janenegrodesky@rocketmail.com
---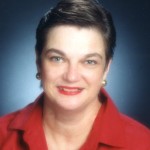 Miriam Maxwell Juban of "M300" will join us at The Stockade for Highland Nights on Friday, November 14, 2014 and will display and offer for sale her one-of-a-kind handmade buckles.
Here is a little about Miriam and her art:
After leaving the restaurant business a few years ago, I have explored myself. So why name something "M300"?  Because I have 300 things I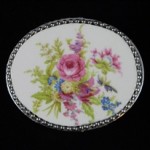 have yet to do. I hate waste and love recycling. The fact that I had a lovely antique broken platter led me to seek a use for the shards of china. Local artist Linda Robinson helped me learn to solder, but a medical condition curtailed my grinding and soldering. I had buckles to fill! Lynn Mitchell was making encaustic designs (a method of painting in which colors in wax are fused). She shared her designs with me which I use as background for the buckles and pendants I now make. At present you may see my buckles on www.AuthenticLouisiana.com.
---
Jeana Esser will be displaying and offering for sale her artwork at The Stockade during Highland Nights on November 14, 2014.
According to Jeana, Jeana Esser Edgeful Art is an appropriate descriptive title for her company as she describes her art as "edgy". She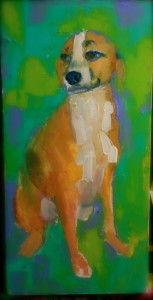 is also responsible for Uncle Bud Productions, which is all about her famous icon, Uncle Bud (who she will let remain a bit of a mystery for now). She is a local Baton Rouge artist and she paints things that move her. Everything she paints has gotten in her head for some reason or another and has an importance.
In addition to being a local artist, teacher, musician, and writer (contributing writer for Town Favorites), she is an animal lover, dogs primarily, but recently she has been captivated by hummingbirds due to the long hours she has spent looking out of her kitchen window.
Her inspiration comes from a plethora of sources. She recreates many of her father's vintage photographs in her own context, taking liberties with color and scale. She often exaggerates perspectives as well. Much of her paintings, drawings, and sculptures are of a whimsical nature, thus fueling her love of finding humor in all things and using color to enhance it. Places where she has travelled and moments in time also contribute to her creativity. In a nutshell, she is an artist through and through. She loves teaching art workshops for all ages. She is most at peace when she is in her studio surrounded by her furry friends and great music, which is constantly going on in her house! Her most important job, however, is being a mother. She has an amazing daughter who never ceases to inspire her and make her want to be better in all areas of her life.
As of this moment, she is "smelling the roses" and creating a new body of work in addition to a few part-time ventures. She has taught Art and Pre-K for a few years now but at this time she is creating more art and showing it all over. Currently, she shows her work at The Foyer, Mosaic Garden, and Portobello's Grill on Jefferson Highway. Additionally, she is starting a dog walking/pet sitting business, as well, so she is doing the things that she loves.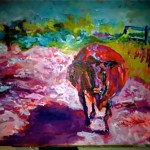 When asked makes her art different, she responded, "Because it symbolizes who I am, what I see and how I see. "
Jeana Esser Biography
I first picked up a pencil and large drawing pad when I was 4. I actually remember drawing a picture of one of my dad's friends, who I called "Mr. Nose" for obvious reasons. Apparently the likeness was rather uncanny according to my mother. After that, a monster was created. I hardly ever left the house without a pad and pencil. Painting happened much later. I graduated from LSU with a BFA and a minor in Art History.
My inspiration tends to transcend beyond what may be normal and that allows me to take liberties with everyday things, people, and places. Images tend to pop into my brain and I cannot wait to put them onto canvas. My paintings are often whimsical in nature and much of my subject matter comes from my late father George's faded black and white photographs. I then recreate them using my own colors and context.
My life is anything but dull and I consider myself lucky in that being creative is not an option. It's who I am. I am thankful for the important people in my life who contribute to my overall happiness and successes. In the words of Michelangelo: "Believe it or not, I can actually draw."
Jeana Esser
---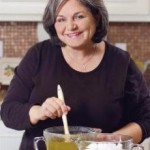 We are looking forward to having Elizabeth Hill at The Stockade again this year for Highland Nights on Friday, November 14, 2014.
In the summer of 2000, Elizabeth's quest to find a natural lip balm for her son eventually led to the formation of her business, Handmade at Homestead. Her hobby soon turned into a flourishing handmade, woman-owned personal care products business.  She is located just outside of Baton Rouge, Louisiana on Homestead Plantation. She strives to use locally produced ingredients

whenever possible, most notably raw cane sugar grown on Homestead Plantation, as well as other nearby plantations.
Her products include fine handmade bath products, including salt scrubs, glycerin soaps, bath salts, lotions and more.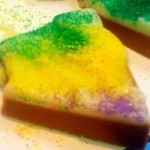 She is especially known for her King Cake Soap by the Slice.
---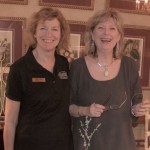 Artisan Emily Grace Bowers will once again be at The Stockade Bed and Breakfast to exhibit and sell her original and unique jewelry at Highland Nights, Friday, November 14, 2014.  Emily handcrafts her jewelry and has created two separate collections. The first consists of copper and/or brass, and the second is made of sterling silver and/or gold-filled wire which she wraps into earrings, pendants and bracelets.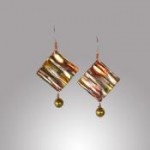 Emily Grace Bowers is a graduate of Louisiana State University, having earned a degree in Business Administration. She has studied jewelry design under Tom Lorio at LSU, silversmithing under Don Norris, and wire-wrapping under Diane Mason, Sue Rowand and Gene Sheridan at William Holland School of Lapidary Arts.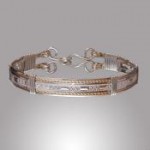 For more information, visit her website: Grace Designs Jewelry.
For more information on Highland Nights, visit Facebook:  https://www.facebook.com/HighlandNights
---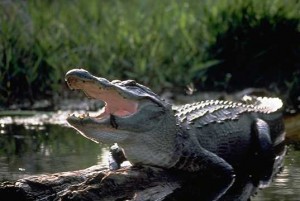 Hoping to see alligators on your trip to Louisiana?  You're in luck!  There are several swamp tours located around South Louisiana which will give you the opportunity to see alligators, birds and unusual plants in their natural environment. Swamp tours are fun, educational and memorable. They provide many photo opportunities – you will return home with close-up pictures of wildlife and plants from places you could never have reached on your own.
Swamp tours are offered in various watercraft, from airboats to flat bottom boats. They are conducted by knowledgeable guides who not only know where to find the wildlife and plants, but give guests information about what they are seeing. Many of the guides hold degrees in Zoology and Botany and love to share their wealth of knowledge.
Here are some of the swamp tours offered around our area: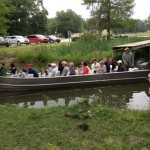 Cajun Country Swamp Tours is held in the Lake Martin Swamp near Breaux Bridge, La. and endeavors "to provide our guest with an unforgettable, educational and entertaining swamp tour into a Louisiana swamp with a generous serving of Cajun Country hospitality while promoting a greater respect for wildlife and the environment." http://www.cajuncountryswamptours.com/html/st__martin_parish_native_tour_.html
Cajun Encounters Tour Co. – Experience the Honey Island Swamp, near Slidell, La., like no other. Owned and operated by New Orleans natives, Cajun Encounters scouts out the best experts in the field to give you an authentic, safe, personal, hands-on tour of the swamp. http://www.cajunencounters.com/swamp_tour.html
Pearl River Eco-Tours – Experience a journey like no other…into the Honey Island Swamp, one of the least altered river swamps in the country, with a professional native ecological tour guide. http://www.pearlriverecotours.com/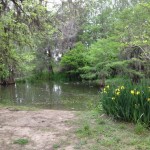 Not a tourist? Do you live in Louisiana? See what's available in your own back yard.
Take a swamp tour for a stay-cation you won't soon forget.
---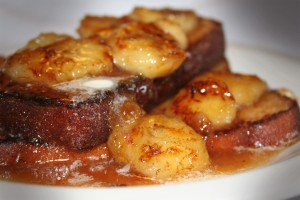 I started making this recipe when the Ice Cream Banana plant which one of my guests from Florida brought me produced a bumper crop.  Everybody loves it!
1 loaf of French Bread sliced
2 eggs, beaten
2 cups half and half
1 oz. Praline Liquor
Butter
Pecans
Brown sugar
Sliced banana
Blueberries (optional)
Powdered sugar (optional)
Whipped cream (optional)
Mix together the beaten eggs, half and half, and Praline liquor.
Soak bread in mixture and sauté in butter on both sides until brown.
In separate sauce pan, sauté in butter,  pecans, Praline liquor, and brown sugar until it makes a syrup. Add banana slices and cook till soft.
Pour syrup over French toast and garnish with blueberries, powdered sugar and whipped cream.
---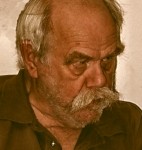 Artwork of Don Wright, a native of Shreveport, La., may be found in some of the bedrooms at the Stockade.  Although he remained a resident of Louisiana, he was quite well traveled. After graduating from Franklin High School in 1957, he enlisted in the U.S. Navy where he served until 1961. Following his military days, Wright joined an exploratory seismographic company that allowed him to experience the glaciers of Alaska and Canada, the beaches of the Bahamas, and most of the terrain between them.
While with the seismographic company, his interest in art began to grow. At the age of 24, Don Wright began attending classes at Southeastern Louisiana University. After completing his BA, he was accepted to an MFA program at the Pratt Institute of New York. He finished the Pratt Institute in 1970 with an emphasis in painting, drawing, and, what he would later call his favorite medium, sculpture.
Like most established Louisiana artists, he became known for his paintings of rural landscapes and of the old Vieux Carre, His style of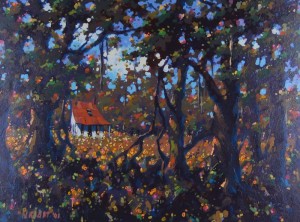 painting is always unmistakable, but it can be found in subjects ranging from swamps to nudes and courtyards to cabins. In his own words, Wright said of his art: "My intent is to infuse internal reality within the artist with outside stimuli, the product being the finished art object. I deliberately subordinate all questions of style, technique, subject, and medium to this simple credo."
Prior to purchasing the Stockade, Janice was an art dealer.  She and Don were good friends as well as artist and art dealer.  They spent time together and often went to charity events where Don's work was being auctioned.  Janice spent time at his studio in Hammond and they visited local restaurants, art venues and theatres.  Don often called Janice when he was working on a painting and wanted to get feedback.  It is fitting, therefore, that much of his artwork adorns the walls of the Stockade.
(Courtesy of http://www.jeanbragg.com/don-wright)
---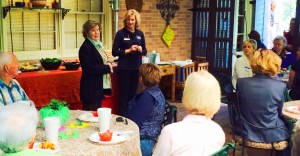 Hospice Foundation of Baton Rouge held its annual Volunteer Luncheon on April 9, 2014 on the side patio of the Stockade. The Stockade was the first Hospice showcase home in Baton Rouge.  In the Spring of 1990, the house was decorated by Baton Rouge interior designers and the public was invited to view it for admission, with the proceeds going to Hospice, a non-profit agency. Janice DeLerno toured the home and purchased it in December of the same year. Though the Stockade Bed and Breakfast was opened several years after that, it was the beginning of something good!  For that reason, we were pleased to offer the Stockade for their venue as a donation to this wonderful organization.
---
2 eggs per person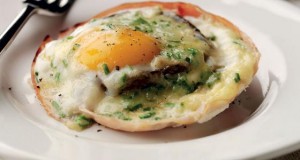 1 tablespoon grated cheese 1/8 teaspoon Worcestershire sauce Dash of Cajun Seasoning Paprika Parsley flakes ½ slice of cooked crumbled bacon per egg
Spray small muffin tin with non-stick spray.  Scramble eggs slightly and put in muffin tin.  Sprinkle cooked crumbled bacon over egg.  Add Worcestershire sauce and Cajun seasoning.  Top with grated cheese, and then sprinkle lightly with paprika and parsley flakes.
Bake at 350 degrees for about 15 minutes, or until center is not runny.
Serve hot with Hollandaise sauce on top, sprinkled with paprika or parsley for garnishing.
---