Our Blog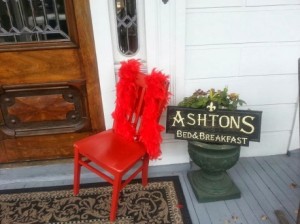 So how does wooden chair become a celebrity? In the case of the Red Chair, it all started in winter 2012 with a single image.
Woods Hole Inn innkeeper Beth Colt posted a picture on Facebook of her simple red chair perched on the ice behind her house and watched her page light up with likes. The picture was then shared on the Facebook page of Julie Ann Cromer, a photographer from Santa Barbara, California, who was inspired by the image to visit the Woods Hole Inn and took a second photo of the chair on a local beach. This inspired Colt to share the chair with other innkeepers by sending it on a journey through towns and villages throughout Cape Cod and then throughout the six New England states.
As part of a consciousness-raising experiment among innkeepers, the Red Chair is currently being welcomed at inns and B&B's throughout America. And from February 2 to February 10, the chair is making its way to Louisiana.
While the Red Chair is in The Pelican State, she (yes, the chair is a she!) will be hosted by several inns across the state, including Ashton's Bed and Breakfast and Avenue Inn Bed and Breakfast in New Orleans, The Stockade Bed and Breakfast in Baton Rouge and The Caldwell House in Abbeville.
Innkeepers Patrick and Karma Ashton, Joe and Bebe Rabhan, Janice DeLerno and Carolyn Sagrera have eagerly been planning for Ms. Chair's arrival, and are planning on showing her the time of her life. While in New Orleans, the Red Chair will visit Mardi Gras World, Rock 'n' Bowl, Café du Monde, and Jackson Square. Afterward, she will head to Baton Rouge, where she will visit Mike the Tiger at LSU and tour other member properties of the Louisiana Bed and Breakfast Association to get a taste of what Louisiana travel is all about.
"We're really looking forward to having the Red Chair come to our state because we want to show her exactly how we pass a good time here in Louisiana," said Janice DeLerno, Innkeeper at The Stockade. "We have big plans for Big Red — that's what I'm calling her!"
The Red Chair's travels have been well documented on her website and Twitter account, where the Red Chair can be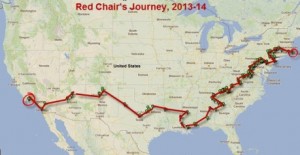 seen everywhere from beaches to bandstands. And more photos and stories from the Red Chair's ongoing journey across nearly twenty states will be added to the website as they are captured. To learn more about the Red Chair's Louisiana adventures, be sure to visit www.RedChairTravels.com or check out the Louisiana Bed and Breakfast Association's site, http://www.louisianabandb.com.
---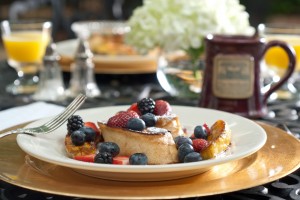 When you travel, how important is breakfast to you?  If you enjoy unique, creative and delicious breakfast creations, you may want to consider staying at a bed and breakfast.  In fact, breakfast may be one of the main reasons you choose a bed and breakfast instead of a hotel.
A favorite phrase in the Bed and Breakfast industry is that "Breakfast" is half the name.  In many B&Bs, your breakfast may be the most memorable part of your stay, not only for the food but the intimate and leisurely experience as well. Guests sometimes meet other guests and oftentimes breakfasts in a B&B can last for an hour or more as guests meet each other, talk about the area, their experiences and where they are from.
If breakfast is important to you, it is advised that you ask the innkeeper prior to your stay what type of breakfast will be served.  Just as styles of B&Bs vary, so do breakfast offerings.  It can be as simple as a continental breakfast of coffee, tea and pastries brought to your room or served in a country-style dining room.  Or it can be as elegant as menu items prepared by a chef in an beautiful dining room setting.  A delicious breakfast may be the one thing you remember most about a particular inn.
Most innkeepers enjoy using foods indigenous to their area in the preparation of the menu.  Sometimes the ingredients are grown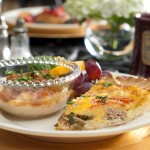 on the property itself – herbs, fresh vegetables, etc.  Oftentimes, when serving, the chef or cook will come out and tell you what you are eating and what ingredients were used to make the dish. When's the last time you went to a hotel and received that type of personal service?
When comparing prices of hotels versus bed and breakfasts, remember that usually the breakfast is included in the room rental of a B&B, which is not always the case in hotels.  Innkeepers consider the breakfast experience an important part of your stay and put a lot of thought and preparation into the foods that will be served.
The Stockade serves a traditional Southern breakfast.  Guests wake up to the aroma of Community Coffee, Louisiana's brand.  The menu varies daily with delicacies such as garlic cheese grits, egg soufflé, French omelets, hickory-smoked bacon, country ham, biscuits, croissants, muffins, French toast and fresh fruit. Upon request, special dietary needs are accommodated.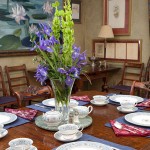 The Stockade breakfast room contains antiques, with John Gould hummingbird prints, botanical prints from the Temple of Flora collection by Robert John Thornton and antique collectible menus.
Hungry yet?  Bon appetit, and as we say in South Louisiana, "laissez les bon temps rouler" (let the good times roll)!
---
Dearest Guests,
In the tradition of Southern hospitality, we would like to share the following article from the Huffington Post with you.  Sometimes, we innkeepers get frustrated doing our best to engage with our guests for a more pleasant B&B experience.  Since you are coming to stay in our homes, we want to make sure that you have the best possible experience.  Help us help you!  Communicate with your innkeeper.  The more we know, the more we can be of service.  If things change, keep the innkeeper in the loop.
The ever-changing world of technology has changed the way innkeeping works for us.  But the desire to please our guests is still the most important thing.  You are our newfound friends for the duration of your stay.  We are honored that you have chosen to stay at our homes.  We hope you recognize that we are running a race with limited staff and need time to accomplish things like housekeeping, maintenance, and grocery shopping — all the things that are necessary to ensure your comfort. Innkeeping is like having a really large family with lots of different interests and activities.  The Smith family has come to visit with their LSU freshman daughter Daniella whose birthday is tomorrow, the Black family is attending their son's graduation ceremony and Mr. White has a very important board meeting in the morning.  My goal is to make sure that all of our guests have their needs met.
Serving as the president of the Louisiana Bed and Breakfast Association has given me the opportunity to know many innkeepers.  What we all have in common is the love of the calling, the opportunity to preserve history on our individual properties and the opportunity to share what we have with our guests.   Beyond that, it is work, work, work, just  like any other job.  The income barely covers the cost of doing business, but it helps to offset the costs of maintaining the property, and offers the innkeeper a lifestyle which can be fun.   Did I mention that it is WORK, WORK, WORK?
All kidding aside, it is a privilege to know some of the most wonderful, interesting people who have chosen innkeeping as their calling.  I am blessed to have many of them as my close, personal friends.  In our kitchen hangs a framed saying which reads "Kiss the Cook."  From time to time, somebody actually does!  Well, kiss mah grits, nothing could be better.  And if you want my recipes, you are welcome to them.  Just don't expect me to know "exactly" what is in them besides my heart and soul.
I guess the point is that we're happy to have you stay with us.  And if there is anything that you need, please ask.  We are happy to help, but can only do so if we are aware of your needs.

Yours in Hospitality,
Janice DeLerno, Innkeeper
---
Just because we don't get snow down in Louisiana doesn't mean we can't celebrate Christmas in style. Here are some local events to get you in the Christmas spirit!
63rd Annual Downtown Christmas Parade (Baton Rouge)
The Downtown Christmas Parade will roll through the streets of downtown Baton Rouge, Saturday, December 14 starting at 5:30pm. Head down early and grab your spot to see Santa, Children's Grand Marshall Super Why and nearly 80 others spread the magic of the holiday spirit. For more information, visit ChristmasinBR.com.
19th Century Christmas at Rosedown Plantation (St. Francisville)
Take a step back in time and visit this historic plantation, Rosedown Plantation & Gardens. You'll have a chance to view the Main House and Nina's Wing all decked out in historic, early-to-mid 19th century-style Christmas décor, consisting of natural greenery garlands, fruit and nut displays, cypress and cedar wreaths, and potted poinsettia blooms. 19th Century Christmas lasts the entire month of December. For more information, visit visitbatonrouge.com/event/19th-Century-Christmas-at-Rosedown-Plantation/13451.
The Nutcracker: A Tale from the Bayou (Baton Rouge)
Possibly the largest production in the city all year, Baton Rouge Ballet's take on the classic Russian story featured 310 performers last year, including 34 professional and pre-professional dancers. Pyrotechnics, falling snow, lavish costumes and gorgeous backdrops ensure that the production doesn't skimp on spectacle for the packed houses at the Baton Rouge River Center. The show is set for four productions—2 p.m. and 6 p.m. Dec. 21 and 22. Find out more at batonrougeballet.org.
Holiday Skating on the River (Baton Rouge)
It's not often you get a chance to skate on a frozen lake in the South, but at the Baton Rouge River Center, you can try out your ice skating skills. Sessions are 90 minutes and happen various times every day between December 19 and January 5, except Christmas and New Year's Day. Find out more at brrivercenter.com.
Caroling at Jackson Square (New Orleans)
Sponsored by Patio Planters of the Vieux Carré since 1946, Caroling in Jackson Square is a truly moving holiday tradition held by candlelight on the Sunday before Christmas. Jackson Square brims with candle-lit faces and song-lit spirits as high as the spires of the Cathedral. Candles and song sheets provided. The event will take place on December 22 at 7 p.m. For more information, visit https://holiday.neworleansonline.com/?mcm_event=caroling-in-jackson-square.
Revellion Dinners (New Orleans)
Derived from the French word for 'awakening,' Reveillon (REH-vee-on) originally was a meal served after midnight mass on Christmas Eve. Early New Orleans was almost entirely Catholic, and virtually the entire community would participate in these ceremonies. Two a.m. might seem like a strange time to eat a feast, but hungry families would return from the late-night service to gather around the table and eat a delicious meal that had been prepared ahead of time.
A typical early Reveillon menu might closely resemble breakfast, with egg dishes, breads and puddings. However, the dinners also frequently included dishes like turtle soup, oysters and grillades of veal. The Creoles accompanied these dishes with wines, cordials and other alcoholic drinks. The dinners could last for many hours — sometimes until dawn!
Today, Reveillon dinners are served at more conventional dining times rather than in the middle of the night, and have become more common in top-tier restaurants rather than in family homes. This year, forty eight different New Orleans eateries will offer Reveillon dinners during the holiday season. For a complete list of this year's Reveillon dinners, including menus and dates on which the meals will be available, visit http://www.fqfi.org.
---
On October 30, local chefs Jay Ducote and Chris Wadsworth hosted a Haunted House Pop-Up Dinner at The Stockade Bed and Breakfast on Highland Road. The event was held to raise money for Wadsworth's new training venture, Triumph Kitchen, a non-profit education venue that will serve as a training facility to teach culinary, hospitality and life skills to at-risk youth.
For the dinner, Ducote and Wadsworth prepared a thirteen- course meal full of tricks and treats. Creepy courses included smoked duck heart in smoked carrot skin, vampire-repelling garlic risotto, "Ghost Bites" (marshmallow and rum chatta foam), and "poisoned apple" bread pudding.
The event raised more than $800 for Triumph Kitchen, which is currently set to open in January of next year.
"The Haunted Pop-Up was a one-of-a-kind event complete with spooktacular food, wine from Louisiana's own Landry Vineyards, and a setting that is truly a gem for Baton Rouge," said Ducote. "The Stockade B&B provided a perfect backdrop for the Halloween-themed pop-up dinner. We had an amazing turnout, a lot of fun, and raised a lot of money for Triumph Kitchen while doing it!"
---
The Stockade Bed and Breakfast is proud to announce our participation in this year's B&Bs for Vets program, sponsored by the Better Way to Stay campaign.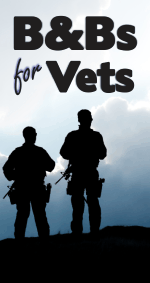 Each year, the B&Bs for Vets program allows participating innkeepers from across the U.S. and Canada to offer free rooms to vets. This year, more than 250 innkeepers will offer free rooms on November 10 or 11 so that those who've served their country can celebrate Veterans Day at an inn or B&B, free of charge.
Here at The Stockade, veterans will be eligible for a free one-night stay on either November 10 or November 11, 2013 (military ID required). Rooms are subject to availability, and interested veterans should call for reservations.
B&Bs for Vets is an industry-wide effort to thank active and retired military and vets for their service to our country. To learn about inns and B&Bs participating in the program and their offers for vets, visit http://www.betterwaytostay.com/current-promotions/bbs-for-vets/.
---
The Stockade's own Charmaine James was named Housekeeper of the Year by the Baton Rouge Lodging Association (BRLA) in a luncheon held on September 12.
Master of Ceremonies Chris Savoca, executive officer at Travel Media Network, addressed the BRLA members in a speech about the Baton Rouge hospitality industry. He commended the Baton Rouge Area Convention and Visitors Bureau for helping the city to become one of the nation's culinary hotspots and urged members to continue to go the extra mile in order to make guests' travels memorable.
"As we say in Louisiana, give guests a little 'lagniappe,' and see the response you get," he said.
Savoca also spoke about the importance of each individual member of a hotel's staff.
"Every person is as vital as every other person who holds a position in a hotel," he said. "Today is about acknowledging the housekeepers who work day in and day out to provide that 'wow factor.' We appreciate all your hard work and everything you do to secure the comfort and security of our guests."
Sixteen housekeepers from hotels and inns across Baton Rouge were honored with the distinction of Housekeeper of the Year, and each honoree also received a gift basket containing tokens of appreciation from local tourism professionals.
James, who is employed at The Stockade through Advantage Personnel, was nominated by Cynthia Shelmire, an industrial employee consultant at Advantage.
"Charmaine is a wonderful person who takes pride in her work and does an incredible job," said Janice DeLerno, innkeeper at The Stockade Bed and Breakfast. "She fully deserves this recognition for her hard work, dedication, and professionalism. I'm grateful for all of my talented housekeepers — Charmaine, Sissie, and Shemica — and  for everything they've done for this business."
---
By Elizabeth Clausen
Local artist Sheryl Southwick has been creating art ever since she was five years old. An LSU alum, she has studied at the Corcoran School of Art in Washington D.C., spent a year living and painting in Paris, and has had her works displayed at various galleries and cafes. Her latest work of interactive art, "If The Road Could Talk," will be showcased in the Project 100 exhibit at Frameworks Gallery, which opens Friday, Sept. 13.
When did you decide to become an artist?
I grew up in a very creative household. My mom sewed and cooked, and my dad was always tearing walls down and putting walls up. So I grew up in a very fluid household where everything was adaptable and flexible, and my parents knew how to do stuff.
And they taught us whatever they knew. I've been sewing since I was five and cooking since I was five. This piece that I'm working on now is a combination of those kinds of handiworks, but I'm also using a painter's stretcher bar. I'm doing a different kind of 'canvas' made of wires. It's a loom, really.
How long have you been making art?
When I was fourteen I started drawing everybody and everything all around me, and I still have stacks and stacks of sketchbooks that I can look back on. In high school, I learned how to paint. I had the best painting teacher ever. Her name was Judy Dazzio, and now she lives in Florida and has a big art school there. She taught me color theory. I guess I had a natural affinity for it, because I picked up on it quickly and I've remembered everything she ever taught me.
What do you like about teaching art?
I'm very rewarded when I see the light bulbs go off in people's heads and they get something, and I also just love to see what they do.
I love children's art. I love to watch them create because often children are less inhibited than adults, and they just go for it, which I try to do. Which is part of the reason that I'm making this piece, "If The Road Could Talk," because I've never seen anything like it. Somebody gave me all these materials and I thought, I just want to make something that's in my head.
Oh, and another thing. When I used to teach children in the woods in Maryland, I would do the coolest projects with kids all the time. And I thought, you know, those projects were so fun and different. I mean, I just want to start doing them for myself. And so that's kind of what inspired this too. I thought, why do I have to paint a picture or do a mosaic? Those are wonderful, but I want to do something different.
Is "If The Road Could Talk" your first loom that you've ever made?
Well, I used to make little stick-weaving projects when I worked with children. You take two sticks and place them horizontally about six inches apart. And then you take either twine or embroidery thread and you just make a warp, hang it in a tree, and weave it. But that was a long time ago. And this is along those lines.
Why did you choose to incorporate the wires with natural elements like leaves? Are you trying to say something about technology?
I just put the leaf in there, because I kept the leaves for printmaking and I put it in there, because I kept the leaves for printmaking and I put it in there. When I put the fish in, I started thinking about how humans are adding their trash to oceans and harming wildlife.
It's interesting how this project is evolving. It's fascinating, because I was just starting to make something out of leftover stuff and now it's evolving this way.
It kind of reminds me of a bird's nest, and the way birds will take things out of their environment and weave it together in this really interesting way.
Yeah! They'll take anything, like wire, and it becomes part of nature — even if it's a manmade object — because it's being used by this animal.
When did you start doing three-dimensional works? Is that a recent development?
It's pretty recent. I started doing mosaics up in Maryland probably in 2003 maybe, because I had this beautiful bowl that broke and I wanted to do something with it. And I had gone to see a mosaic gallery in New York City, and it was so captivating to me. They had mosaic picture frames, furniture, mirrors, walls, and the surfaces just interested me.
My paintings have always had sort of broken-up surfaces. I was influenced by the post-impressionist painters a lot. My favorite painter is Bonnard. And he came out of the impressionists. I like surface breakup, because I think it makes my eyes dance. It's not static at all.
Do you have certain themes in your artwork that you return to often?
I do. There's one in particular that comes to mind — I love the river. I'm in love with the Mississippi River. So I like to paint waterways.
What is it about the river that you feel drawn to?
Well, I grew up here. And when I was a kid, I'd go to the levee and pet the cows at the LSU farms. Or maybe it's because I'm a Pisces, if you believe in astrological stuff [laughs].
So you grew up in Baton Rouge?
I did. I was born on a bayou.
Like literally on the bayou?
Well, I was born in a hospital. But I mean…
How did you end up in Maryland?
I went up to Maryland in 1976, during the bicentennial of the U.S. I went to stay with my cousin and sort of acted as a nanny to her two little boys. And I got married up in Maryland. I ended up in Maryland because I wanted to go to a big city and see what it was like. I wanted to look at art museums, because Baton Rouge had such a limited collection. And so I wanted to live in a city. So I did. I lived in D.C., and I met my husband up there. Eventually we went to Paris for one year.
So how did you end up back here?
After my husband died, my son who was in high school didn't want to come back here. I told him after he went to college I was going to come back here. So I did. I wanted to be near my family. I have five siblings. My sister, who's also an artist, lives here. She said you can come live in my house, because my daughters are grown and we have all this room. And so I did. I came back three years ago.
Earlier, you said when you were growing up in Baton Rouge, there wasn't much of an art scene. How do you think that's changed? Has it changed? How would you describe the art scene in Baton Rouge right now compared to how it used to be?
There's so much going on now. There are a whole lot of art classes going on. There's a lot of art shows … There's a lot more energy.
The roots, music has come out of the closet, so to speak. Art is very vital now. I think the music's always been there but I think the visual arts have really picked up. I also think that Louisiana has a lot of stuff going on that nobody else has going on, and it always has. It's unique. And I missed that so much when I was in Maryland. There's such a mix of people and ethnic backgrounds here. I think it's great.
Would you say that the South has influenced your artwork? Has Louisiana influenced your artwork?
I'm sure every artist is influenced by who they are and where they're from, unless they're not authentic. But we have so many influences. Because we go to school and learn stuff. I think maybe it is. Maybe the Mississippi River itself influences me, but also having lived away and seen a lot of different kinds of art is enabling me to make this piece that I'm working on right now. Because it's kind of out of the box, in a way. Maybe it's not. It is in a frame, though.
By the time this is finished, it will be interactive, where somebody will be able to come up and touch it and make sound happen.
Why is that important to you, to make it interactive?
Well, it's my first interactive piece. I think it's fun. Because you're not supposed to touch art. And often, we want to touch art because of the tactile appearance. You want to go touch a mosaic, because you want to feel the rocks and see if it's as rough as it looks or as smooth as it looks. You want to feel the texture.
You're so right. That's why they have to post signs saying, "Please don't touch."
Plus it's fun. I mean, art is so serious. Museums can be so serious. But there's so many fun things in life. And I don't know. It's just in my head; I've got to make it happen.
And I remember my brothers used to get these kits when they were little boys. They got the electronic kits where you could touch wires together and make lights come on, stuff like that. And I want to learn that. I like to understand stuff. I don't like to be totally in the dark.
What do you want other people to know about your artwork?
I just want them to look at it and bring themselves to it. I think if you look at something long enough you might know enough about it for yourself. Sometimes if I learn too much about an artist, I might not like their art anymore, since I might not like them anymore. I liked Gauguin a lot, but when I read about what he did, you know, he left his whole family of five kids, I'm thinking, 'That is really awful.' Then I had a different view of his art. And people say that about Picasso, but he was such an innovator. He just invented himself over and over and over again, and he didn't get bored with himself.
I think we get bored with ourselves when we make one kind of art too long, at least I do. I don't want to be producing it like an assembly line without inventing new stuff. And this is just my break from painting. I love painting, I love color, and I like to keep moving forward, like Miles Davis said. You have to keep moving forward.
For more information on Sheryl Southwick, check out her website at www.sherylsouthwick.com
---
Football season is upon us, which means that it's time for tailgating! Here are some things to keep in mind before you head out to your next Tiger Stadium tailgate.
1. Dress the part
There are only two sartorial rules of tailgate fashion at LSU: 1. Wear purple. 2. Wear gold. Anyone who shows up to the game wearing the opposing team's colors will find themselves on the receiving end of the dreaded "Tiger Bait" chant, and nobody enjoys that.
2. Stock up on beverages.
A Southern tailgate wouldn't be complete without a few cold ones. Luckily, in addition to mouthwatering cuisine, Louisiana also has a lot to offer in terms of locally-brewed beers. Abita Brewing Company, Parish Brewing Company and Bayou Teche Brewing all make excellent local brews that allow you to support Louisiana business while you cheer on the Tigers.
3. Cook a mean brisket.
A crucial element of a great tailgate is great food. Here's a recipe for brisket from our good friend Chef Kenny that will leave your guests in awe:
Ingredients:
2 1/2 pounds beef brisket
½ c. olive oil
¼ c. balsamic vinegar
¼ c. honey
2 c. red wine
1 onion (cut up
Tony Chachere's seasoning
Garlic powder
Directions:
1. Preheat oven to 325 degrees F (165 degrees C).
2. In a roasting pan, place brisket fat side up. Rub seasoning all over brisket.
In a small bowl, combine rest of ingredients and pour over brisket.
3. Cover with foil, and bake in preheated oven for 3 to 4 hours. Uncover the brisket during the last hour of cooking.
[NB: You can also put the cooked brisket on the BBQ pit for a little while to crisp the outside and use your favorite BBQ sauce. Many people don't realize that the trick to cooking beef brisket and beef ribs is to cook them in the oven first, then transfer them to the pit for a short time; the oven cooking is what tenderizes the meat, and the pit puts the char on the meat.]
Now what are you waiting for? GEAUX out and enjoy an awesome tailgate party!
---
If you want to understand Louisiana culture and life, it helps to stay in a historic Louisiana home — like The Stockade.  Once a Civil War stockade, our six-room B&B gives guests a feel for the timeless, untouched Southern lifestyle … with the exception of flat screen TVs and air conditioning, of course!
In addition to staying in the right place when you're visiting Louisiana, it's important that you understand the slang, too. Here is a list of a few common phrases you'll hear in the Pelican State:
Neutral ground is a term from New Orleans that describes the median that divides the two sides of the street. Call it a median, and you've just outed yourself as a tourist.
You don't drive on interstates, you drive on highways.
In New Orleans, people don't shop for groceries; they make groceries. (The expression derives from the French faire son marché, meaning, "to do one's market shopping," with faire translating either as "to do" or "to make.")
Teenagers in Jena go around "making loops," which is just what it sounds like — driving around town aimlessly.
Anyone who isn't from the South is a Yankee.
We don't use shopping carts. We use buggies.
We don't have soft drinks, colas, or pop. We have Coke. As in, "What kind of Coke do you want?" "I'll take a Sprite." Pepsi is Coke. Root beer is Coke. Simple.
In Louisiana, we don't call them "chain-link fences," we call them hurricane fences.
In South Louisiana, you're not about to do anything — you're fixin' to do it.
And of course the ever famous Y'all! Don't you dare say "you guys." Don't even think about it.
---