Our Blog
2 eggs per person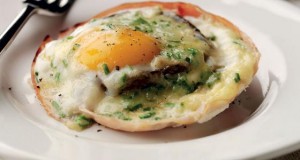 1 tablespoon grated cheese 1/8 teaspoon Worcestershire sauce Dash of Cajun Seasoning Paprika Parsley flakes ½ slice of cooked crumbled bacon per egg
Spray small muffin tin with non-stick spray.  Scramble eggs slightly and put in muffin tin.  Sprinkle cooked crumbled bacon over egg.  Add Worcestershire sauce and Cajun seasoning.  Top with grated cheese, and then sprinkle lightly with paprika and parsley flakes.
Bake at 350 degrees for about 15 minutes, or until center is not runny.
Serve hot with Hollandaise sauce on top, sprinkled with paprika or parsley for garnishing.
---

William "Bill" U. Stracener has been creating award-winning artwork for over 50 years. His impressionist realism brings the Louisiana terrain to life in his watercolor paintings.  He is a native of Baton Rouge and a graduate of LSU. Many of his paintings adorn the walls at The Stockade.  Bill is very involved with Senior Olympics and has won many medals over the years playing basketball with his team.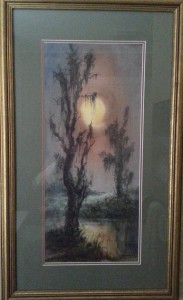 "Full Moon" hangs in the Rex Room.  Bill has always been intrigued with the different phases of the moon in his paintings.  This is one of two paintings in the house with the moon used as the focal point.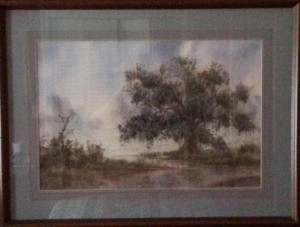 "Majestic Oak" hangs in the Red Room.  Louisiana's prize oaks have been another of Bill's favorite subject matters over the years.  The majestic oak in the painting is similar to the one behind the house on the bluff of the old Mississippi River bed.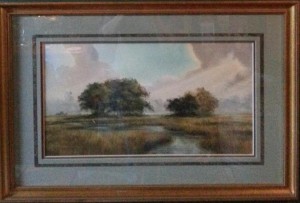 "Marshland" hangs in the Foyer.  In a grouping in the main entrance to The Stockade, this painting is indicative of Louisiana's prevalent wetlands.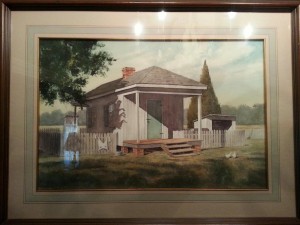 "Rural Life" hangs in the Garden Room.  The subject matter of this painting is one of the buildings at The Rural Life Museum right down Essen Lane from The Stockade.  It is well worth a visit when you stay at The Stockade.
---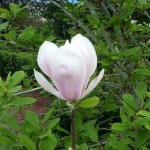 South Louisiana, like much of the United States, experienced more than its share of unusually cold weather this winter.  Phrases like "polar vortex" were being used by weather forecasters – a term people in the south are definitely not familiar with.  All we know is that it was COLD – really COLD.  Snow, sleet and frozen fountains were a little too common in the South this past winter.
South Louisiana is not exactly a tropical area, but we do have somewhat fragile plants that grow here which don't tolerate very cold or frozen temperatures.  Try as we might, it was difficult for us to cover and protect many of our plants, and now that Spring is officially here, we are all taking stock of what's left and replacing plants that didn't make it.
At The Stockade, we are happy to say that our plants are finally coming to life, albeit a little late.  And we couldn't be happier!  Take a walk with us around The Stockade gardens and see what plants and flowers are springing to life!
---
Louisiana has so many awesome festivals, it's hard to pick which ones to go to! Here are our top picks for the best upcoming LA festivals. Whether you're looking for good food, good music, or just a good time, we've got you covered! 
Crawfish Festival – Beaux Bridge, May 2, 3, 4, 2014
Held in the "Crawfish Capital of the World," The Breaux Bridge Crawfish Festival is an annual festival held to promote the crawfish industry in Louisiana and the culture of Cajun Country.
The Breaux Bridge Crawfish Festival has also been featured in documentaries by CNN, ABC, NBC, CBS, The Food Channel, and PBS. It has been featured in Maxim Magazine, Southern Living, National Geographic, The New York Times, Country Cooking, Motorhome Living, and Better Homes and Garden publications. The Breaux Bridge Crawfish Festival was named a top 10 Food Festival by USA Today. [http://www.bbcrawfest.com/about_us.html]
Cochon de Lait – Mansura, May 8 – 11, 2014
The Cochon de Lait Festival is held annually on the second weekend in May in Mansura, Louisiana. Mansura is the Cochon de Lait capital of the world. The festival mixes great Cajun food, good times and Louisiana music with the famous cochon de lait (French for roast suckling pig). There is plenty to see and do for an entire family to "pass a good time." [http://www.cochondelaitfestival.com/index.html]
Greek Festival – Baton Rouge, May 10, 2014
The Holy Trinity Greek Orthodox Church of Baton Rouge wants you to join them in a celebration of Greek culture, entertainment and cuisine at the 2nd Annual Baton Rouge Greek Festival in Downtown Baton Rouge on Saturday, May 11, 2013, at the Town Square festival venue. Festival goers will dine on Greek food cooked by members of the Church, using authentic Greek recipes. A Greek band, "Alpha Omega Sound," from Atlanta, GA will provide live entertainment and visitors will learn traditional Greek dances. The Holy Trinity Greek Dancers from New Orleans will also perform throughout the day. An assortment of beverages, Greek pastries, Mediterranean arts and crafts, clothing, jewelry, religious icons, festival T-shirts and a festival poster will be available for purchase. [http://brgreekfest.com]
Bayou Boogaloo – New Orleans, May 16 – 18, 2014
The 9th Annual Mid-City Bayou Boogaloo Festival that will be held Friday May 16 – Sunday May 18, 2014 along the banks of historic and beautiful Bayou St. John. As always the Festival is a family-friendly event with a kid's stage, along with games and activities for children. Attendees can partake in delicious food, spirits and libations, listen to great local music, and enjoy the very best art that New Orleans has to offer. [http://www.thebayouboogaloo.com]
Jambalaya Festival – Gonzales, May 22 – 25, 2014
The Jambalaya Festival Association, chartered in 1967, invites you to mark your calendar for the 47th annual Jambalaya festival to be held in Gonzales, Louisiana on Memorial Day Weekend, May 22 – 25, 2014. Your whole family will enjoy the vast variety of food, fun, music and activities that have made the Jambalaya Festival the can't miss highlight of the year.
The festival features World Champion Jambalaya served daily, live music and entertainment, carnival rides, cooking contests, a variety of food and so much fun it takes four days to get it all in. [http://www.jambalayafestival.org]
NOLA Food and Wine Experience – New Orleans, May 21 – 24, 2014
Over the past 20 years the New Orleans Wine & Food Experience has raised more than $1 million for non-profit organizations right here in our community, while showcasing local food and chefs, and national and international wines. We invite you to raise a glass and be a part of the festivities as we make New Orleans a better place to live, work and play.  [http://www.nowfe.com]
Cajun Heartland State Fair – Lafayette, May 22 – June 1, 2014
The 26th Annual Cajun Heartland State Fair scheduled May 22 – June 1, 2014 will provide the best in family entertainment for children of all ages. North American Midway Entertainment will have numerous super rides such as the giant Ferris wheel, Crazy Mouse and the Mega Drop! Games, free concerts and free attractions will entertain everyone. Prizes and surprises await everyone at the Cajun Heartland State Fair. [http://www.cajundome.com/chsf.aspx]
---
---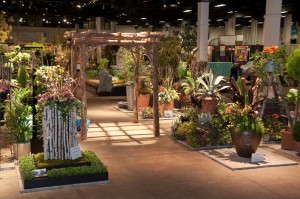 There may never have been a time when Southerners anticipated the coming of Spring as this year, after such a long, cold winter. If that describes you, head on over to Baton Rouge for the 12th Annual Baton Rouge Spring Garden Show, set for March 29th – 30th at the John M. Parker Coliseum (LSU) on Highland Road in Baton Rouge.  The show is located 13 minutes from The Stockade Bed and Breakfast. Make your room reservations at The Stockade now so that you can enjoy both days.  http://thestockade.com/guest-rooms.
This show will include local nurseries and other vendors selling plants, tools, pots, ornaments, landscaping materials and so much more. Children's activities also will be available.
In addition to the Spring Garden Show, there will be other events going on at the Coliseum during that weekend, as well:
Choose one or all shows for a fun-filled weekend.
---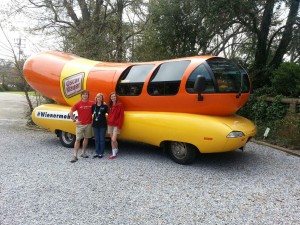 The Oscar Mayer Wienermobile Wiener Roast at The Stockade on March 13th was a big hit! It was a party that none of The Stockade Bed and Breakfast staff will ever forget.  The staff hosted a cookout for friends and neighbors to take a tour of "Big Bun", which is the name of the Wienermobile.
Wienermobiles are a series of automobiles shaped like a hot dog on a bun which are used to promote and advertise Oscar Mayer products in the United States.  Drivers of the Wienermobiles are known as "Hotdoggers" and often hand out toy whistles shaped as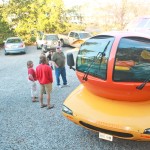 replicas of the Wienermobile, known as "Wienerwhistles".  The Hotdoggers who drove the Wienermobile to The Stockade were Steve and Alex.  There are 6 different crews of mobiles and each has a team of 2 Hotdoggers.  They are hired for a period of one year, from June to June.  They are in high demand to travel to different markets to promote Oscar Mayer products.
Adults and children alike enjoyed the fun and everyone got a Wienerwhistle and key chain.  Alex and Steve commented that they were excited to see so many folks show up for the occasion.
Two persons from the Lt. Governor's Office in Baton Rouge came to the event.   Janice DeLerno, the owner of The Stockade, (the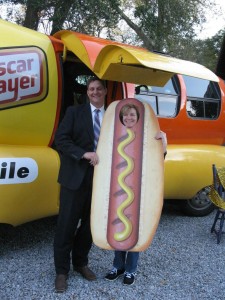 one in the hot dog bun) posed for a picture with Jacques Berry, Communications Director for Lt. Gov. Jay Dardenne's Louisiana Office of Tourism.
First the Red Chair, now the Oscar Mayer Wienermobile!  What's next?
---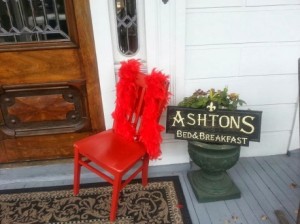 So how does wooden chair become a celebrity? In the case of the Red Chair, it all started in winter 2012 with a single image.
Woods Hole Inn innkeeper Beth Colt posted a picture on Facebook of her simple red chair perched on the ice behind her house and watched her page light up with likes. The picture was then shared on the Facebook page of Julie Ann Cromer, a photographer from Santa Barbara, California, who was inspired by the image to visit the Woods Hole Inn and took a second photo of the chair on a local beach. This inspired Colt to share the chair with other innkeepers by sending it on a journey through towns and villages throughout Cape Cod and then throughout the six New England states.
As part of a consciousness-raising experiment among innkeepers, the Red Chair is currently being welcomed at inns and B&B's throughout America. And from February 2 to February 10, the chair is making its way to Louisiana.
While the Red Chair is in The Pelican State, she (yes, the chair is a she!) will be hosted by several inns across the state, including Ashton's Bed and Breakfast and Avenue Inn Bed and Breakfast in New Orleans, The Stockade Bed and Breakfast in Baton Rouge and The Caldwell House in Abbeville.
Innkeepers Patrick and Karma Ashton, Joe and Bebe Rabhan, Janice DeLerno and Carolyn Sagrera have eagerly been planning for Ms. Chair's arrival, and are planning on showing her the time of her life. While in New Orleans, the Red Chair will visit Mardi Gras World, Rock 'n' Bowl, Café du Monde, and Jackson Square. Afterward, she will head to Baton Rouge, where she will visit Mike the Tiger at LSU and tour other member properties of the Louisiana Bed and Breakfast Association to get a taste of what Louisiana travel is all about.
"We're really looking forward to having the Red Chair come to our state because we want to show her exactly how we pass a good time here in Louisiana," said Janice DeLerno, Innkeeper at The Stockade Bed and Breakfast. "We have big plans for Big Red — that's what I'm calling her!"
The Red Chair's travels have been well documented on her website and Twitter account, where the Red Chair can be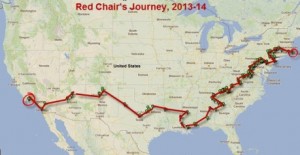 seen everywhere from beaches to bandstands. And more photos and stories from the Red Chair's ongoing journey across nearly twenty states will be added to the website as they are captured. To learn more about the Red Chair's Louisiana adventures, be sure to visit www.RedChairTravels.com or check out the Louisiana Bed and Breakfast Association's site, http://www.louisianabandb.com.
---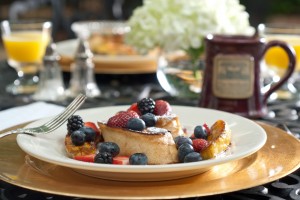 When you travel, how important is breakfast to you?  If you enjoy unique, creative and delicious breakfast creations, you may want to consider staying at a bed and breakfast.  In fact, breakfast may be one of the main reasons you choose a bed and breakfast instead of a hotel.
A favorite phrase in the Bed and Breakfast industry is that "Breakfast" is half the name.  In many B&Bs, your breakfast may be the most memorable part of your stay, not only for the food but the intimate and leisurely experience as well. Guests sometimes meet other guests and oftentimes breakfasts in a B&B can last for an hour or more as guests meet each other, talk about the area, their experiences and where they are from.
If breakfast is important to you, it is advised that you ask the innkeeper prior to your stay what type of breakfast will be served.  Just as styles of B&Bs vary, so do breakfast offerings.  It can be as simple as a continental breakfast of coffee, tea and pastries brought to your room or served in a country-style dining room.  Or it can be as elegant as menu items prepared by a chef in an beautiful dining room setting.  A delicious breakfast may be the one thing you remember most about a particular inn.
Most innkeepers enjoy using foods indigenous to their area in the preparation of the menu.  Sometimes the ingredients are grown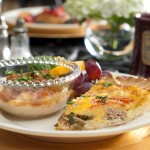 on the property itself – herbs, fresh vegetables, etc.  Oftentimes, when serving, the chef or cook will come out and tell you what you are eating and what ingredients were used to make the dish. When's the last time you went to a hotel and received that type of personal service?
When comparing prices of hotels versus bed and breakfasts, remember that usually the breakfast is included in the room rental of a B&B, which is not always the case in hotels.  Innkeepers consider the breakfast experience an important part of your stay and put a lot of thought and preparation into the foods that will be served.
The Stockade serves a traditional Southern breakfast.  Guests wake up to the aroma of Community Coffee, Louisiana's brand.  The menu varies daily with delicacies such as garlic cheese grits, egg soufflé, French omelets, hickory-smoked bacon, country ham, biscuits, croissants, muffins, French toast and fresh fruit. Upon request, special dietary needs are accommodated.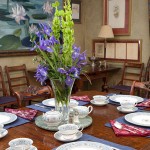 The Stockade breakfast room contains antiques, with John Gould hummingbird prints, botanical prints from the Temple of Flora collection by Robert John Thornton and antique collectible menus.
Hungry yet?  Bon appetit, and as we say in South Louisiana, "laissez les bon temps rouler" (let the good times roll)!
---