Our Blog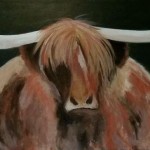 Sherri Short, a Baton Rouge Artist, will be at The Stockade for Highland Nights this Friday, November 14th. Here's a little information about Sherry: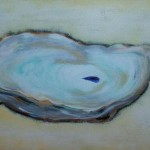 Suffering from the empty nest syndrome and finding herself with time on her hands, Sherri started painting classes with her neighbor a few years ago. She has a priceless eye for putting things together whether it is interior design, clothing, store merchandising, flower arranging, cooking, etc. A natural talent that had a little help from her friend, Sherri has continued to take lessons and grow from one artistic medium to another. At The Stockade she will show her recent oysters in oil!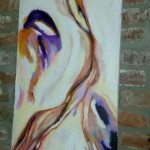 ---
Sandy Engels of The Purple Sage will join us at The Stockade for Highland Nights this Friday, November 14th.
Sandy's tagline, "Wise Skincare with a Bit of Southern Sass" is a good indication of the philosophy of Sandy and her products. Her company, Purple Sage, is a touch of Sass (think purple), Wisdom (that's the Sage), and Rebel (that's me, the owner).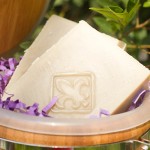 Sandy wanted to make soap since she was a child and describes her fascination with that project in her bio on her website, The Purple Sage.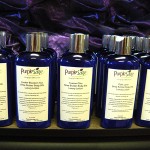 In addition to hand blended soaps, her company makes lotions, creams for pain discomfort, foot creams, foaming milk baths, bath fizzies, facial toners, sugar scrubs, room sprays, body sprays, laundry powder, and dishwasher cubes.
---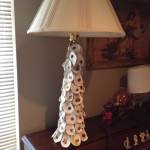 Lee Maxwell will be at The Stockade for Highland Nights on Friday, November 14, 2014 and will display and offer for sale his Louisiana oyster shell creations.
After Katrina, Lee was watching television and saw a house in the 9th ward with a cross leaning against the porch made of oyster shells.  He duplicated it and called it a "Katrina Cross" selling them with profits going to the Katrina fund for fisherman.  Then he moved on to other decorative items made of Louisiana oyster shells…like lamp bases, ring holders, Christmas decor, wreaths, yard crosses, etc.  His oyster items can be found in Henderson, La. at The Marketplace at Hwy 115 and in Baton Rouge at Mosaic Gardens.
---
The Stockade welcomes Noel Rathe of Rural Life Woodworks as a returning artist to Highland Nights on November 14, 2014.
Noel creates functional works of art from wood, using the unique grain patterns and selectively cutting, riving and shaping the wood to expose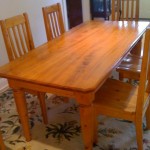 the beauty God has put into wood. This is his passion. Both beautiful and useful, his kitchen utensils can be hung for display and are comfortable to use in food preparation and serving family and guests. Noel has a Facebook page for Rural Life Woodwords at https://www.facebook.com/pages/Rural-Life-Woodworks/139406116100929. Look up his page for examples of his art and whimsy. He can be reached, for special orders, at noelrathe@gmail.com or 225-975-7120.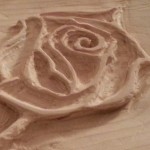 ---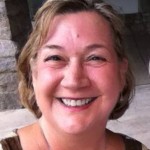 Debbie Buco of Empty Nest Pottery in Baton Rouge will be at The Stockade for Highland Nights on November 14, 2014. She has been doing business as Empty Nest Enterprises, LLC since 2009.
Debbie fell in love with clay while taking classes in throwing on the wheel at LSU. (No, not after watching that steamy film scene in "Ghost" which everyone always asks her about!) Debbie says, "Working with clay on a potter's wheel is like a dance – trying to 'lead' the clay into the form that you envision without having the whole thing collapse into a pile of mush. It is one of the most satisfying and the most frustrating things that I have ever done. My goal is to become the best potter that I can be and to create beautiful functional forms from the clay. I make pottery by throwing on a potter's wheel or by hand building, or by combining these techniques.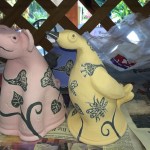 The process of making pottery consists of forming clay on the wheel or by hand, trimming the piece, adding surface decoration, bisque firing, glazing, and the final glaze firing.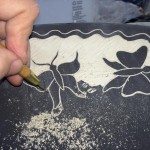 Surface decoration has become a major component of my work with clay. I love to draw and then carve designs into different color underglazes on a piece. I have been using the sgraffito and mishima techniques to draw Louisiana wildlife. Some of my favorites are pelicans, alligators, herons, ducks, and of course, chickens!
Sgraffito is Italian for "scratching" and the design is carved with a very small V-shaped tool. This is like drawing backwards because I remove the background underglaze revealing the white clay body. The picture is what is left uncarved.
Mishima results in a fine line drawing done in black underglaze on the piece of pottery. To achieve this effect, I use a very sharp pointed tool to draw my picture into the leather hard clay. The black underglaze is inlayed into the crevice and then wiped away with a damp sponge. After bisque firing, additional underglaze colors are hand painted on to create a water color effect.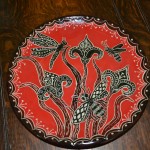 All of my pottery is glazed in lead free and food safe glazes.
I also make clergy stoles — those beautiful things that pastors and priests wear around their necks during church services! I will be opening an Etsy shop called Heart, Mind, and Stole soon to showcase these.
There are many potters who are making many beautiful things! The wonderment of it is that each of us could use the same clay, the same tools, glazes, and underglazes, and yet, create vastly different kinds of art. I think my work is unique because it showcases the life that I live here in Louisiana. I love the outdoors and wildlife and I try to share that beauty with others through my pottery.
Pottery is both exhilarating and frustrating. It is a complex and constant journey toward meeting my own expectations as a ceramic artist. I am grateful to have the opportunity to play in clay every day. Creating makes me happy!"
Biography: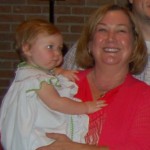 Debbie was born and raised in Baton Rouge. She received her BS degree from LSU in Elementary Education and a Master's degree in Guidance and Counseling, +30 in Gifted Education. She took pottery throwing lessons while at LSU. Debbie taught elementary and middle school gifted students in East Baton Rouge and Ascension parishes for 28 years before retiring in 2009.
In addition to seeing Debbie and her work at The Stockade during Highland Nights, you can see her pottery at the Baton Rouge Arts Market, held downtown on the 1st Saturday of every month and the first 3 Saturdays in December; Lagniappe Gallery, and Knits by Nana (knitting bowls only).
Debbie has visited India and wandered through the Taj Mahal (in 112 degree blistering sunshine!). She has snorkeled off of the Great Barrier Reef in Australia. She also walked through the Daintree Rainforest there. She has given birth to and raised 4 delightful sons and has 3 equally delightful grandchildren. Debbie raises hens (who provide delicious breakfasts)! She wrote an archeology activity guide about Poverty Point entitled "Expeditions", which includes lessons and activities to help students learn about the prehistoric culture in northeastern Louisiana. Poverty Point was recently chosen to be a World Heritage site! Check it out—it's in your local library! She and her husband are beekeepers and have 5 hives in their side yard. They occasionally make mead – a honey wine. Their peach ginger mead is awesome!
---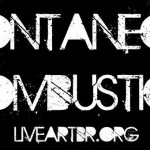 Always at delight at The Stockade for any event is Spontaneous Combustion. This unique group will be with us once again for Highland Nights on Friday, November 14, 2014.
Spontaneous Combustion is a live art event made up of local musicians, painters, sculptors, and other artists invested in spreading the love of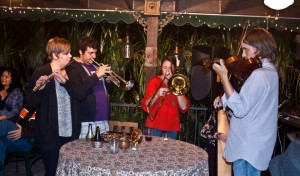 art in the Greater Baton Rouge Area community. A wide array of musicians improvise, while painters and sculptors create on various mediums. During the event, audience members can buy raffle tickets for $5 apiece, and place them in a bowl assigned to their favorite artist or piece of work. There is a drawing near the end of the event, and the winners take the art home! It's amazing to watch the creative process unfold. Join the art cabal!

See you at The Stockade for Highland Nights!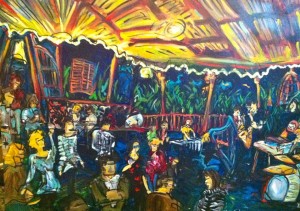 ---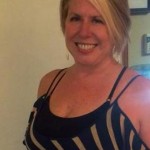 The Stockade is proud to have Janene Grodesky display her artwork with us for Highland Nights on Friday, November 14, 2014.
With a Ph.D in Kinesiology from LSU, Grodesky has a passion for studying and incorporating movement into her works. She also credits a childhood spent with a Zoologist father as influencing her love of biology and nature as reflected in her adult works. She asserts a natural interconnectedness in her expression through texture, color, and dimension. She enjoys deconstructing the "micro- world" and strives to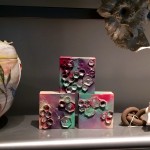 place it in the "macro," or cosmological context. Grodesky has been actively showing her work for over 10 years. She has been invited to participate in various gallery shows, juried events, and a few "outsider" collections. She won the People's Choice Award for Art Melt 2013 for her work "Lepidoptera," which deconstructs and abstracts a butterfly wing. She currently resides in Baton Rouge with her husband, three dogs, and five cats. She is co-owner of One Heart Yoga Center. She can be reached at janenegrodesky@rocketmail.com
---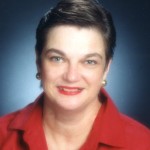 Miriam Maxwell Juban of "M300" will join us at The Stockade for Highland Nights on Friday, November 14, 2014 and will display and offer for sale her one-of-a-kind handmade buckles.
Here is a little about Miriam and her art:
After leaving the restaurant business a few years ago, I have explored myself. So why name something "M300"?  Because I have 300 things I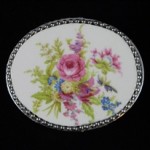 have yet to do. I hate waste and love recycling. The fact that I had a lovely antique broken platter led me to seek a use for the shards of china. Local artist Linda Robinson helped me learn to solder, but a medical condition curtailed my grinding and soldering. I had buckles to fill! Lynn Mitchell was making encaustic designs (a method of painting in which colors in wax are fused). She shared her designs with me which I use as background for the buckles and pendants I now make. At present you may see my buckles on www.AuthenticLouisiana.com.
---
Jeana Esser will be displaying and offering for sale her artwork at The Stockade during Highland Nights on November 14, 2014.
According to Jeana, Jeana Esser Edgeful Art is an appropriate descriptive title for her company as she describes her art as "edgy". She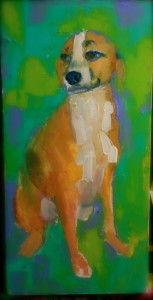 is also responsible for Uncle Bud Productions, which is all about her famous icon, Uncle Bud (who she will let remain a bit of a mystery for now). She is a local Baton Rouge artist and she paints things that move her. Everything she paints has gotten in her head for some reason or another and has an importance.
In addition to being a local artist, teacher, musician, and writer (contributing writer for Town Favorites), she is an animal lover, dogs primarily, but recently she has been captivated by hummingbirds due to the long hours she has spent looking out of her kitchen window.
Her inspiration comes from a plethora of sources. She recreates many of her father's vintage photographs in her own context, taking liberties with color and scale. She often exaggerates perspectives as well. Much of her paintings, drawings, and sculptures are of a whimsical nature, thus fueling her love of finding humor in all things and using color to enhance it. Places where she has travelled and moments in time also contribute to her creativity. In a nutshell, she is an artist through and through. She loves teaching art workshops for all ages. She is most at peace when she is in her studio surrounded by her furry friends and great music, which is constantly going on in her house! Her most important job, however, is being a mother. She has an amazing daughter who never ceases to inspire her and make her want to be better in all areas of her life.
As of this moment, she is "smelling the roses" and creating a new body of work in addition to a few part-time ventures. She has taught Art and Pre-K for a few years now but at this time she is creating more art and showing it all over. Currently, she shows her work at The Foyer, Mosaic Garden, and Portobello's Grill on Jefferson Highway. Additionally, she is starting a dog walking/pet sitting business, as well, so she is doing the things that she loves.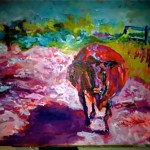 When asked makes her art different, she responded, "Because it symbolizes who I am, what I see and how I see. "
Jeana Esser Biography
I first picked up a pencil and large drawing pad when I was 4. I actually remember drawing a picture of one of my dad's friends, who I called "Mr. Nose" for obvious reasons. Apparently the likeness was rather uncanny according to my mother. After that, a monster was created. I hardly ever left the house without a pad and pencil. Painting happened much later. I graduated from LSU with a BFA and a minor in Art History.
My inspiration tends to transcend beyond what may be normal and that allows me to take liberties with everyday things, people, and places. Images tend to pop into my brain and I cannot wait to put them onto canvas. My paintings are often whimsical in nature and much of my subject matter comes from my late father George's faded black and white photographs. I then recreate them using my own colors and context.
My life is anything but dull and I consider myself lucky in that being creative is not an option. It's who I am. I am thankful for the important people in my life who contribute to my overall happiness and successes. In the words of Michelangelo: "Believe it or not, I can actually draw."
Jeana Esser
---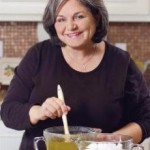 We are looking forward to having Elizabeth Hill at The Stockade again this year for Highland Nights on Friday, November 14, 2014.
In the summer of 2000, Elizabeth's quest to find a natural lip balm for her son eventually led to the formation of her business, Handmade at Homestead. Her hobby soon turned into a flourishing handmade, woman-owned personal care products business.  She is located just outside of Baton Rouge, Louisiana on Homestead Plantation. She strives to use locally produced ingredients

whenever possible, most notably raw cane sugar grown on Homestead Plantation, as well as other nearby plantations.
Her products include fine handmade bath products, including salt scrubs, glycerin soaps, bath salts, lotions and more.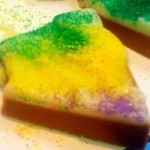 She is especially known for her King Cake Soap by the Slice.
---