Our Blog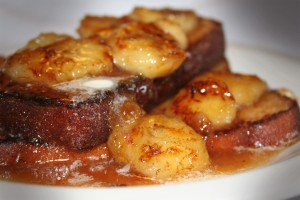 I started making this recipe when the Ice Cream Banana plant which one of my guests from Florida brought me produced a bumper crop.  Everybody loves it!
1 loaf of French Bread sliced
2 eggs, beaten
2 cups half and half
1 oz. Praline Liquor
Butter
Pecans
Brown sugar
Sliced banana
Blueberries (optional)
Powdered sugar (optional)
Whipped cream (optional)
Mix together the beaten eggs, half and half, and Praline liquor.
Soak bread in mixture and sauté in butter on both sides until brown.
In separate sauce pan, sauté in butter,  pecans, Praline liquor, and brown sugar until it makes a syrup. Add banana slices and cook till soft.
Pour syrup over French toast and garnish with blueberries, powdered sugar and whipped cream.
---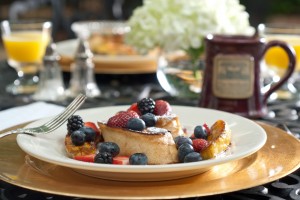 When you travel, how important is breakfast to you?  If you enjoy unique, creative and delicious breakfast creations, you may want to consider staying at a bed and breakfast.  In fact, breakfast may be one of the main reasons you choose a bed and breakfast instead of a hotel.
A favorite phrase in the Bed and Breakfast industry is that "Breakfast" is half the name.  In many B&Bs, your breakfast may be the most memorable part of your stay, not only for the food but the intimate and leisurely experience as well. Guests sometimes meet other guests and oftentimes breakfasts in a B&B can last for an hour or more as guests meet each other, talk about the area, their experiences and where they are from.
If breakfast is important to you, it is advised that you ask the innkeeper prior to your stay what type of breakfast will be served.  Just as styles of B&Bs vary, so do breakfast offerings.  It can be as simple as a continental breakfast of coffee, tea and pastries brought to your room or served in a country-style dining room.  Or it can be as elegant as menu items prepared by a chef in an beautiful dining room setting.  A delicious breakfast may be the one thing you remember most about a particular inn.
Most innkeepers enjoy using foods indigenous to their area in the preparation of the menu.  Sometimes the ingredients are grown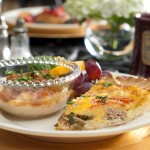 on the property itself – herbs, fresh vegetables, etc.  Oftentimes, when serving, the chef or cook will come out and tell you what you are eating and what ingredients were used to make the dish. When's the last time you went to a hotel and received that type of personal service?
When comparing prices of hotels versus bed and breakfasts, remember that usually the breakfast is included in the room rental of a B&B, which is not always the case in hotels.  Innkeepers consider the breakfast experience an important part of your stay and put a lot of thought and preparation into the foods that will be served.
The Stockade serves a traditional Southern breakfast.  Guests wake up to the aroma of Community Coffee, Louisiana's brand.  The menu varies daily with delicacies such as garlic cheese grits, egg soufflé, French omelets, hickory-smoked bacon, country ham, biscuits, croissants, muffins, French toast and fresh fruit. Upon request, special dietary needs are accommodated.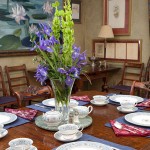 The Stockade breakfast room contains antiques, with John Gould hummingbird prints, botanical prints from the Temple of Flora collection by Robert John Thornton and antique collectible menus.
Hungry yet?  Bon appetit, and as we say in South Louisiana, "laissez les bon temps rouler" (let the good times roll)!
---
On October 30, local chefs Jay Ducote and Chris Wadsworth hosted a Haunted House Pop-Up Dinner at The Stockade Bed and Breakfast on Highland Road. The event was held to raise money for Wadsworth's new training venture, Triumph Kitchen, a non-profit education venue that will serve as a training facility to teach culinary, hospitality and life skills to at-risk youth.
For the dinner, Ducote and Wadsworth prepared a thirteen- course meal full of tricks and treats. Creepy courses included smoked duck heart in smoked carrot skin, vampire-repelling garlic risotto, "Ghost Bites" (marshmallow and rum chatta foam), and "poisoned apple" bread pudding.
The event raised more than $800 for Triumph Kitchen, which is currently set to open in January of next year.
"The Haunted Pop-Up was a one-of-a-kind event complete with spooktacular food, wine from Louisiana's own Landry Vineyards, and a setting that is truly a gem for Baton Rouge," said Ducote. "The Stockade B&B provided a perfect backdrop for the Halloween-themed pop-up dinner. We had an amazing turnout, a lot of fun, and raised a lot of money for Triumph Kitchen while doing it!"
---
Football season is upon us, which means that it's time for tailgating! Here are some things to keep in mind before you head out to your next Tiger Stadium tailgate.
1. Dress the part
There are only two sartorial rules of tailgate fashion at LSU: 1. Wear purple. 2. Wear gold. Anyone who shows up to the game wearing the opposing team's colors will find themselves on the receiving end of the dreaded "Tiger Bait" chant, and nobody enjoys that.
2. Stock up on beverages.
A Southern tailgate wouldn't be complete without a few cold ones. Luckily, in addition to mouthwatering cuisine, Louisiana also has a lot to offer in terms of locally-brewed beers. Abita Brewing Company, Parish Brewing Company and Bayou Teche Brewing all make excellent local brews that allow you to support Louisiana business while you cheer on the Tigers.
3. Cook a mean brisket.
A crucial element of a great tailgate is great food. Here's a recipe for brisket from our good friend Chef Kenny that will leave your guests in awe:
Ingredients:
2 1/2 pounds beef brisket
½ c. olive oil
¼ c. balsamic vinegar
¼ c. honey
2 c. red wine
1 onion (cut up
Tony Chachere's seasoning
Garlic powder
Directions:
1. Preheat oven to 325 degrees F (165 degrees C).
2. In a roasting pan, place brisket fat side up. Rub seasoning all over brisket.
In a small bowl, combine rest of ingredients and pour over brisket.
3. Cover with foil, and bake in preheated oven for 3 to 4 hours. Uncover the brisket during the last hour of cooking.
[NB: You can also put the cooked brisket on the BBQ pit for a little while to crisp the outside and use your favorite BBQ sauce. Many people don't realize that the trick to cooking beef brisket and beef ribs is to cook them in the oven first, then transfer them to the pit for a short time; the oven cooking is what tenderizes the meat, and the pit puts the char on the meat.]
Now what are you waiting for? GEAUX out and enjoy an awesome tailgate party!
---
In addition to mouthwatering cuisine, Louisiana also has a lot to offer in terms of locally-brewed beers. Here are a few:
Founded in 1986, the Abita Brewing Company is located 30 miles north of New Orleans. In its first year, the brewery produced 1,500 barrels of beer. By 1994, the company outgrew their original site and moved up the road to a larger facility to keep up with demand. Abita brews over 151,000 barrels of beer and 9,100 barrels of root beer in their state-of-the-art brewing facility.
Parish Brewing Company was founded in 2008 by a man who worked as a chemical engineer before leaving the corporate world to become a brewmaster. Brewed in Lafayette Parish, Parish beer takes pride in being fresh — it has no preservatives and is never pasteurized.
Bayou Teche Brewing's founder dreamed of creating a beer that would pair with the Cajun cuisine he grew up eating. He taught himself to brew beer and made several different styles of beers until he found recipes that complemented Cajun and Creole food. He then returned to Arnaudville, where he taught his brothers his secrets and worked with them to brew their first batches of beer together. Bayou Teche Brewing was founded by the Knott brothers in 2009.
---
While po-boys are the most famous kind of Louisiana sandwich, a close runner-up is the muffaletta (pronounced muff-uh-LOT-uh). A muffaletta is a round sandwich with layers of olive salad, salami, mortadella, mozzarella, ham, and provolone. Average muffalettas are approximately ten inches in diameter, and can be bought in half- or quarter-sizes.
The Italian sandwich has its origins in New Orleans, and is said to have been created by Salvatore Lupo at Central Grocery. Lupo, a Sicilian immigrant, opened Central Grocery in 1906. He invented the now famous sandwich to feed farmers who sold produce in the French Quarter.
So how much do Louisianians love Lupo's now-famous sandwich? A (muff)LOTTA!
---
One of the hallmarks of Cajun cuisine is its zesty flavors and seasonings. Every Louisiana cupboard worth its salt has at least one bottle of hot sauce inside. However, each Southerner has his or her own favorite brand of the spicy stuff.  At THE STOCKADE Bed & Breakfast we serve three of the most popular brands:
The most famous Louisiana hot sauce has to be TABASCO, which is labeled in 22 different languages and sold in over 165 countries. Made by the McIlhenny Company since 1868, the brand's Original Red Sauce is made on Avery Island from crushed capsicum peppers, salt, and distilled vinegar aged in barrels for up to three years.
Crystal Hot Sauce was created in 1923 by New Orleans residents Alvin and Mildred Baumer, who made the first bottle at the plant on Tchoupitoulas Street. In the 1940s, Baumer Foods grew rapidly as the popularity of Crystal hot sauce skyrocketed. Each year, over 3.2 million gallons of hot sauce are shipped from the Louisiana plant to destinations in over 28 countries across the globe.
Original "Louisiana" Hot Sauce is the  pioneer hot sauce of Louisiana. One of the very first commercially available Cajun food products, the brand has been making sauce from sun-ripened cayenne chile peppers for over eighty years.
Breakfast at the Stockade wouldn't be complete without these iconic brands of hot sauce.  Be sure to stay at The Stockade Bed and Breakfast on your next trip to South Louisiana.
---
In addition to the fantastic cuisine, Louisiana has a great selection of locally-made coffees. In fact, coffee first came to North America by way of New Orleans back in the mid-1700's. Some of the most popular Louisiana brands include French Market Coffee, and Cafe du Monde's chicory blends, and Community Coffee. 

New Orleans-based French Market Coffee specializes in bold chicory blends and flavored coffees. Making coffee since 1890, French Market Coffee is a centuries-old staple that is enjoyed by coffee lovers across the state and by customers at New Orleans' finest restaurants.
Cafe du Monde, the iconic NOLA eatery famous for their savory beignets, serves up a delicious, chocolatey blend of coffee and chicory, a mixture which was developed by the French during their civil war. Since coffee was scarce during those times, they added chicory to add more body and flavor to the brew. Cafe du Monde's coffee is traditionally served Au Lait (mixed half and half with hot milk), but it's also delicious served black!
Community Coffee is the largest family-owned retail coffee brand in the U.S. The company grew from a small country store in Baton Rouge, and has achieved so much success since its humble beginnings that it is now the State Coffee of Louisiana.
Here at The Stockade, we exclusively serve Community Coffee. We hope you'll come enjoy a cup over breakfast with us!
---