Our Blog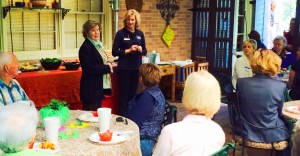 Hospice Foundation of Baton Rouge held its annual Volunteer Luncheon on April 9, 2014 on the side patio of the Stockade. The Stockade was the first Hospice showcase home in Baton Rouge.  In the Spring of 1990, the house was decorated by Baton Rouge interior designers and the public was invited to view it for admission, with the proceeds going to Hospice, a non-profit agency. Janice DeLerno toured the home and purchased it in December of the same year. Though the Stockade Bed and Breakfast was opened several years after that, it was the beginning of something good!  For that reason, we were pleased to offer the Stockade for their venue as a donation to this wonderful organization.
---
Louisiana has so many awesome festivals, it's hard to pick which ones to go to! Here are our top picks for the best upcoming LA festivals. Whether you're looking for good food, good music, or just a good time, we've got you covered! 
Crawfish Festival – Beaux Bridge, May 2, 3, 4, 2014
Held in the "Crawfish Capital of the World," The Breaux Bridge Crawfish Festival is an annual festival held to promote the crawfish industry in Louisiana and the culture of Cajun Country.
The Breaux Bridge Crawfish Festival has also been featured in documentaries by CNN, ABC, NBC, CBS, The Food Channel, and PBS. It has been featured in Maxim Magazine, Southern Living, National Geographic, The New York Times, Country Cooking, Motorhome Living, and Better Homes and Garden publications. The Breaux Bridge Crawfish Festival was named a top 10 Food Festival by USA Today. [http://www.bbcrawfest.com/about_us.html]
Cochon de Lait – Mansura, May 8 – 11, 2014
The Cochon de Lait Festival is held annually on the second weekend in May in Mansura, Louisiana. Mansura is the Cochon de Lait capital of the world. The festival mixes great Cajun food, good times and Louisiana music with the famous cochon de lait (French for roast suckling pig). There is plenty to see and do for an entire family to "pass a good time." [http://www.cochondelaitfestival.com/index.html]
Greek Festival – Baton Rouge, May 10, 2014
The Holy Trinity Greek Orthodox Church of Baton Rouge wants you to join them in a celebration of Greek culture, entertainment and cuisine at the 2nd Annual Baton Rouge Greek Festival in Downtown Baton Rouge on Saturday, May 11, 2013, at the Town Square festival venue. Festival goers will dine on Greek food cooked by members of the Church, using authentic Greek recipes. A Greek band, "Alpha Omega Sound," from Atlanta, GA will provide live entertainment and visitors will learn traditional Greek dances. The Holy Trinity Greek Dancers from New Orleans will also perform throughout the day. An assortment of beverages, Greek pastries, Mediterranean arts and crafts, clothing, jewelry, religious icons, festival T-shirts and a festival poster will be available for purchase. [http://brgreekfest.com]
Bayou Boogaloo – New Orleans, May 16 – 18, 2014
The 9th Annual Mid-City Bayou Boogaloo Festival that will be held Friday May 16 – Sunday May 18, 2014 along the banks of historic and beautiful Bayou St. John. As always the Festival is a family-friendly event with a kid's stage, along with games and activities for children. Attendees can partake in delicious food, spirits and libations, listen to great local music, and enjoy the very best art that New Orleans has to offer. [http://www.thebayouboogaloo.com]
Jambalaya Festival – Gonzales, May 22 – 25, 2014
The Jambalaya Festival Association, chartered in 1967, invites you to mark your calendar for the 47th annual Jambalaya festival to be held in Gonzales, Louisiana on Memorial Day Weekend, May 22 – 25, 2014. Your whole family will enjoy the vast variety of food, fun, music and activities that have made the Jambalaya Festival the can't miss highlight of the year.
The festival features World Champion Jambalaya served daily, live music and entertainment, carnival rides, cooking contests, a variety of food and so much fun it takes four days to get it all in. [http://www.jambalayafestival.org]
NOLA Food and Wine Experience – New Orleans, May 21 – 24, 2014
Over the past 20 years the New Orleans Wine & Food Experience has raised more than $1 million for non-profit organizations right here in our community, while showcasing local food and chefs, and national and international wines. We invite you to raise a glass and be a part of the festivities as we make New Orleans a better place to live, work and play.  [http://www.nowfe.com]
Cajun Heartland State Fair – Lafayette, May 22 – June 1, 2014
The 26th Annual Cajun Heartland State Fair scheduled May 22 – June 1, 2014 will provide the best in family entertainment for children of all ages. North American Midway Entertainment will have numerous super rides such as the giant Ferris wheel, Crazy Mouse and the Mega Drop! Games, free concerts and free attractions will entertain everyone. Prizes and surprises await everyone at the Cajun Heartland State Fair. [http://www.cajundome.com/chsf.aspx]
---
---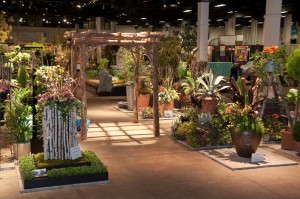 There may never have been a time when Southerners anticipated the coming of Spring as this year, after such a long, cold winter. If that describes you, head on over to Baton Rouge for the 12th Annual Baton Rouge Spring Garden Show, set for March 29th – 30th at the John M. Parker Coliseum (LSU) on Highland Road in Baton Rouge.  The show is located 13 minutes from The Stockade Bed and Breakfast. Make your room reservations at The Stockade now so that you can enjoy both days.  http://thestockade.com/guest-rooms.
This show will include local nurseries and other vendors selling plants, tools, pots, ornaments, landscaping materials and so much more. Children's activities also will be available.
In addition to the Spring Garden Show, there will be other events going on at the Coliseum during that weekend, as well:
Choose one or all shows for a fun-filled weekend.
---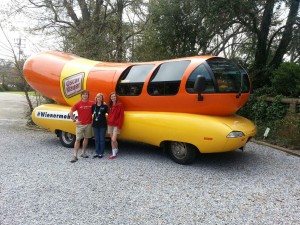 The Oscar Mayer Wienermobile Wiener Roast at The Stockade on March 13th was a big hit! It was a party that none of The Stockade Bed and Breakfast staff will ever forget.  The staff hosted a cookout for friends and neighbors to take a tour of "Big Bun", which is the name of the Wienermobile.
Wienermobiles are a series of automobiles shaped like a hot dog on a bun which are used to promote and advertise Oscar Mayer products in the United States.  Drivers of the Wienermobiles are known as "Hotdoggers" and often hand out toy whistles shaped as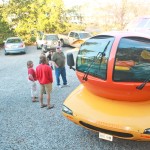 replicas of the Wienermobile, known as "Wienerwhistles".  The Hotdoggers who drove the Wienermobile to The Stockade were Steve and Alex.  There are 6 different crews of mobiles and each has a team of 2 Hotdoggers.  They are hired for a period of one year, from June to June.  They are in high demand to travel to different markets to promote Oscar Mayer products.
Adults and children alike enjoyed the fun and everyone got a Wienerwhistle and key chain.  Alex and Steve commented that they were excited to see so many folks show up for the occasion.
Two persons from the Lt. Governor's Office in Baton Rouge came to the event.   Janice DeLerno, the owner of The Stockade, (the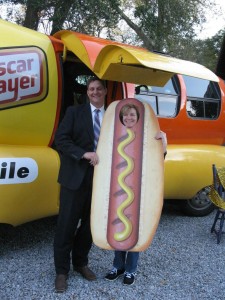 one in the hot dog bun) posed for a picture with Jacques Berry, Communications Director for Lt. Gov. Jay Dardenne's Louisiana Office of Tourism.
First the Red Chair, now the Oscar Mayer Wienermobile!  What's next?
---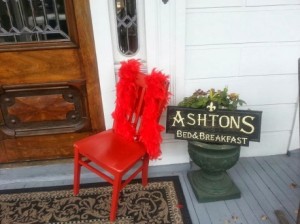 So how does wooden chair become a celebrity? In the case of the Red Chair, it all started in winter 2012 with a single image.
Woods Hole Inn innkeeper Beth Colt posted a picture on Facebook of her simple red chair perched on the ice behind her house and watched her page light up with likes. The picture was then shared on the Facebook page of Julie Ann Cromer, a photographer from Santa Barbara, California, who was inspired by the image to visit the Woods Hole Inn and took a second photo of the chair on a local beach. This inspired Colt to share the chair with other innkeepers by sending it on a journey through towns and villages throughout Cape Cod and then throughout the six New England states.
As part of a consciousness-raising experiment among innkeepers, the Red Chair is currently being welcomed at inns and B&B's throughout America. And from February 2 to February 10, the chair is making its way to Louisiana.
While the Red Chair is in The Pelican State, she (yes, the chair is a she!) will be hosted by several inns across the state, including Ashton's Bed and Breakfast and Avenue Inn Bed and Breakfast in New Orleans, The Stockade Bed and Breakfast in Baton Rouge and The Caldwell House in Abbeville.
Innkeepers Patrick and Karma Ashton, Joe and Bebe Rabhan, Janice DeLerno and Carolyn Sagrera have eagerly been planning for Ms. Chair's arrival, and are planning on showing her the time of her life. While in New Orleans, the Red Chair will visit Mardi Gras World, Rock 'n' Bowl, Café du Monde, and Jackson Square. Afterward, she will head to Baton Rouge, where she will visit Mike the Tiger at LSU and tour other member properties of the Louisiana Bed and Breakfast Association to get a taste of what Louisiana travel is all about.
"We're really looking forward to having the Red Chair come to our state because we want to show her exactly how we pass a good time here in Louisiana," said Janice DeLerno, Innkeeper at The Stockade Bed and Breakfast. "We have big plans for Big Red — that's what I'm calling her!"
The Red Chair's travels have been well documented on her website and Twitter account, where the Red Chair can be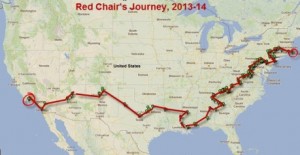 seen everywhere from beaches to bandstands. And more photos and stories from the Red Chair's ongoing journey across nearly twenty states will be added to the website as they are captured. To learn more about the Red Chair's Louisiana adventures, be sure to visit www.RedChairTravels.com or check out the Louisiana Bed and Breakfast Association's site, http://www.louisianabandb.com.
---
On October 30, local chefs Jay Ducote and Chris Wadsworth hosted a Haunted House Pop-Up Dinner at The Stockade Bed and Breakfast on Highland Road. The event was held to raise money for Wadsworth's new training venture, Triumph Kitchen, a non-profit education venue that will serve as a training facility to teach culinary, hospitality and life skills to at-risk youth.
For the dinner, Ducote and Wadsworth prepared a thirteen- course meal full of tricks and treats. Creepy courses included smoked duck heart in smoked carrot skin, vampire-repelling garlic risotto, "Ghost Bites" (marshmallow and rum chatta foam), and "poisoned apple" bread pudding.
The event raised more than $800 for Triumph Kitchen, which is currently set to open in January of next year.
"The Haunted Pop-Up was a one-of-a-kind event complete with spooktacular food, wine from Louisiana's own Landry Vineyards, and a setting that is truly a gem for Baton Rouge," said Ducote. "The Stockade B&B provided a perfect backdrop for the Halloween-themed pop-up dinner. We had an amazing turnout, a lot of fun, and raised a lot of money for Triumph Kitchen while doing it!"
---
The Stockade's own Charmaine James was named Housekeeper of the Year by the Baton Rouge Lodging Association (BRLA) in a luncheon held on September 12.
Master of Ceremonies Chris Savoca, executive officer at Travel Media Network, addressed the BRLA members in a speech about the Baton Rouge hospitality industry. He commended the Baton Rouge Area Convention and Visitors Bureau for helping the city to become one of the nation's culinary hotspots and urged members to continue to go the extra mile in order to make guests' travels memorable.
"As we say in Louisiana, give guests a little 'lagniappe,' and see the response you get," he said.
Savoca also spoke about the importance of each individual member of a hotel's staff.
"Every person is as vital as every other person who holds a position in a hotel," he said. "Today is about acknowledging the housekeepers who work day in and day out to provide that 'wow factor.' We appreciate all your hard work and everything you do to secure the comfort and security of our guests."
Sixteen housekeepers from hotels and inns across Baton Rouge were honored with the distinction of Housekeeper of the Year, and each honoree also received a gift basket containing tokens of appreciation from local tourism professionals.
James, who is employed at The Stockade through Advantage Personnel, was nominated by Cynthia Shelmire, an industrial employee consultant at Advantage.
"Charmaine is a wonderful person who takes pride in her work and does an incredible job," said Janice DeLerno, innkeeper at The Stockade Bed and Breakfast. "She fully deserves this recognition for her hard work, dedication, and professionalism. I'm grateful for all of my talented housekeepers — Charmaine, Sissie, and Shemica — and  for everything they've done for this business."
---
Football season is upon us, which means that it's time for tailgating! Here are some things to keep in mind before you head out to your next Tiger Stadium tailgate.
1. Dress the part
There are only two sartorial rules of tailgate fashion at LSU: 1. Wear purple. 2. Wear gold. Anyone who shows up to the game wearing the opposing team's colors will find themselves on the receiving end of the dreaded "Tiger Bait" chant, and nobody enjoys that.
2. Stock up on beverages.
A Southern tailgate wouldn't be complete without a few cold ones. Luckily, in addition to mouthwatering cuisine, Louisiana also has a lot to offer in terms of locally-brewed beers. Abita Brewing Company, Parish Brewing Company and Bayou Teche Brewing all make excellent local brews that allow you to support Louisiana business while you cheer on the Tigers.
3. Cook a mean brisket.
A crucial element of a great tailgate is great food. Here's a recipe for brisket from our good friend Chef Kenny that will leave your guests in awe:
Ingredients:
2 1/2 pounds beef brisket
½ c. olive oil
¼ c. balsamic vinegar
¼ c. honey
2 c. red wine
1 onion (cut up
Tony Chachere's seasoning
Garlic powder
Directions:
1. Preheat oven to 325 degrees F (165 degrees C).
2. In a roasting pan, place brisket fat side up. Rub seasoning all over brisket.
In a small bowl, combine rest of ingredients and pour over brisket.
3. Cover with foil, and bake in preheated oven for 3 to 4 hours. Uncover the brisket during the last hour of cooking.
[NB: You can also put the cooked brisket on the BBQ pit for a little while to crisp the outside and use your favorite BBQ sauce. Many people don't realize that the trick to cooking beef brisket and beef ribs is to cook them in the oven first, then transfer them to the pit for a short time; the oven cooking is what tenderizes the meat, and the pit puts the char on the meat.]
Now what are you waiting for? GEAUX out and enjoy an awesome tailgate party!
---
Members of the Louisiana Bed and Breakfast Association (LBBA) attended a conference at the St. Landry Parish Tourist Information Center in Opelousas on Wednesday, July 17, 2013.
The one-day conference included various speakers, including Kyle Edmiston from the Louisiana Office of Tourism, who was happy to report that tourism is the best it has ever been in the state. Kim Walker with 5 Stones Media spoke on "Growing Your Business with Social Media and Email Marketing". "Search Engine Optimization" was the topic for Lisa Kolb with Acorn Internet Services, and Laine Garner with the Louisiana Travel Promotion Association (LTPA) gave innkeepers tips on "Packaging Your B&B."
Following a general membership meeting, the innkeepers were taken on a FAM (Familiarization Tour) of two B&B's in Washington, Louisiana – Country House Bed and Breakfast and Camellia Cove Bed and Breakfast. The evening was concluded with dinner at the Steamboat Warehouse Restaurant.
One of the most valuable aspects of the day was the networking between innkeepers throughout Louisiana. Innkeepers had the chance to meet one other, learn about each inn, and share ideas. Such connectivity helps innkeepers to provide a better B&B service.
The Louisiana Bed and Breakfast Association is made up of Louisiana's finest bed and breakfast establishments. Bed and Breakfasts approved by the Louisiana Bed and Breakfast Association must meet a rigorous approval process including board certification and inspection.
[This post originally published here on the Louisiana Bed and Breakfast Association website.]
---