Our Blog
On October 30, local chefs Jay Ducote and Chris Wadsworth hosted a Haunted House Pop-Up Dinner at The Stockade Bed and Breakfast on Highland Road. The event was held to raise money for Wadsworth's new training venture, Triumph Kitchen, a non-profit education venue that will serve as a training facility to teach culinary, hospitality and life skills to at-risk youth.
For the dinner, Ducote and Wadsworth prepared a thirteen- course meal full of tricks and treats. Creepy courses included smoked duck heart in smoked carrot skin, vampire-repelling garlic risotto, "Ghost Bites" (marshmallow and rum chatta foam), and "poisoned apple" bread pudding.
The event raised more than $800 for Triumph Kitchen, which is currently set to open in January of next year.
"The Haunted Pop-Up was a one-of-a-kind event complete with spooktacular food, wine from Louisiana's own Landry Vineyards, and a setting that is truly a gem for Baton Rouge," said Ducote. "The Stockade B&B provided a perfect backdrop for the Halloween-themed pop-up dinner. We had an amazing turnout, a lot of fun, and raised a lot of money for Triumph Kitchen while doing it!"
---
The Stockade's own Charmaine James was named Housekeeper of the Year by the Baton Rouge Lodging Association (BRLA) in a luncheon held on September 12.
Master of Ceremonies Chris Savoca, executive officer at Travel Media Network, addressed the BRLA members in a speech about the Baton Rouge hospitality industry. He commended the Baton Rouge Area Convention and Visitors Bureau for helping the city to become one of the nation's culinary hotspots and urged members to continue to go the extra mile in order to make guests' travels memorable.
"As we say in Louisiana, give guests a little 'lagniappe,' and see the response you get," he said.
Savoca also spoke about the importance of each individual member of a hotel's staff.
"Every person is as vital as every other person who holds a position in a hotel," he said. "Today is about acknowledging the housekeepers who work day in and day out to provide that 'wow factor.' We appreciate all your hard work and everything you do to secure the comfort and security of our guests."
Sixteen housekeepers from hotels and inns across Baton Rouge were honored with the distinction of Housekeeper of the Year, and each honoree also received a gift basket containing tokens of appreciation from local tourism professionals.
James, who is employed at The Stockade through Advantage Personnel, was nominated by Cynthia Shelmire, an industrial employee consultant at Advantage.
"Charmaine is a wonderful person who takes pride in her work and does an incredible job," said Janice DeLerno, innkeeper at The Stockade Bed and Breakfast. "She fully deserves this recognition for her hard work, dedication, and professionalism. I'm grateful for all of my talented housekeepers — Charmaine, Sissie, and Shemica — and  for everything they've done for this business."
---
Football season is upon us, which means that it's time for tailgating! Here are some things to keep in mind before you head out to your next Tiger Stadium tailgate.
1. Dress the part
There are only two sartorial rules of tailgate fashion at LSU: 1. Wear purple. 2. Wear gold. Anyone who shows up to the game wearing the opposing team's colors will find themselves on the receiving end of the dreaded "Tiger Bait" chant, and nobody enjoys that.
2. Stock up on beverages.
A Southern tailgate wouldn't be complete without a few cold ones. Luckily, in addition to mouthwatering cuisine, Louisiana also has a lot to offer in terms of locally-brewed beers. Abita Brewing Company, Parish Brewing Company and Bayou Teche Brewing all make excellent local brews that allow you to support Louisiana business while you cheer on the Tigers.
3. Cook a mean brisket.
A crucial element of a great tailgate is great food. Here's a recipe for brisket from our good friend Chef Kenny that will leave your guests in awe:
Ingredients:
2 1/2 pounds beef brisket
½ c. olive oil
¼ c. balsamic vinegar
¼ c. honey
2 c. red wine
1 onion (cut up
Tony Chachere's seasoning
Garlic powder
Directions:
1. Preheat oven to 325 degrees F (165 degrees C).
2. In a roasting pan, place brisket fat side up. Rub seasoning all over brisket.
In a small bowl, combine rest of ingredients and pour over brisket.
3. Cover with foil, and bake in preheated oven for 3 to 4 hours. Uncover the brisket during the last hour of cooking.
[NB: You can also put the cooked brisket on the BBQ pit for a little while to crisp the outside and use your favorite BBQ sauce. Many people don't realize that the trick to cooking beef brisket and beef ribs is to cook them in the oven first, then transfer them to the pit for a short time; the oven cooking is what tenderizes the meat, and the pit puts the char on the meat.]
Now what are you waiting for? GEAUX out and enjoy an awesome tailgate party!
---
Members of the Louisiana Bed and Breakfast Association (LBBA) attended a conference at the St. Landry Parish Tourist Information Center in Opelousas on Wednesday, July 17, 2013.
The one-day conference included various speakers, including Kyle Edmiston from the Louisiana Office of Tourism, who was happy to report that tourism is the best it has ever been in the state. Kim Walker with 5 Stones Media spoke on "Growing Your Business with Social Media and Email Marketing". "Search Engine Optimization" was the topic for Lisa Kolb with Acorn Internet Services, and Laine Garner with the Louisiana Travel Promotion Association (LTPA) gave innkeepers tips on "Packaging Your B&B."
Following a general membership meeting, the innkeepers were taken on a FAM (Familiarization Tour) of two B&B's in Washington, Louisiana – Country House Bed and Breakfast and Camellia Cove Bed and Breakfast. The evening was concluded with dinner at the Steamboat Warehouse Restaurant.
One of the most valuable aspects of the day was the networking between innkeepers throughout Louisiana. Innkeepers had the chance to meet one other, learn about each inn, and share ideas. Such connectivity helps innkeepers to provide a better B&B service.
The Louisiana Bed and Breakfast Association is made up of Louisiana's finest bed and breakfast establishments. Bed and Breakfasts approved by the Louisiana Bed and Breakfast Association must meet a rigorous approval process including board certification and inspection.
[This post originally published here on the Louisiana Bed and Breakfast Association website.]
---
Louisiana has so many awesome festivals, it's hard to pick which ones to go to! Here are our top picks for the best upcoming LA festivals. Whether you're looking for good food, good music, or just a good time, we've got you covered! 
Crawfish Festival – Beaux Bridge, May 3rd
Held in the "Crawfish Capital of the World," The Breaux Bridge Crawfish Festival is an annual festival held to promote the crawfish industry in Louisiana and the culture of Cajun Country.
The Breaux Bridge Crawfish Festival has also been featured in documentaries by CNN, ABC, NBC, CBS, The Food Channel, and PBS. It has been featured in Maxim Magazine, Southern Living, National Geographic, The New York Times, Country Cooking, Motorhome Living, and Better Homes and Garden publications. The Breaux Bridge Crawfish Festival was named a top 10 Food Festival by USA Today. [http://www.bbcrawfest.com/about_us.html]
Cochon de Lait – Mansura, May 10th
The Cochon de Lait Festival is held annually on the second weekend in May in Mansura, Louisiana. Mansura is the Cochon de Lait capital of the world. The festival mixes great Cajun food, good times and Louisiana music with the famous cochon de lait (French for roast suckling pig). There is plenty to see and do for an entire family to "pass a good time." [http://www.cochondelaitfestival.com/index.html]
Greek Festival – Baton Rouge, May 11th
The Holy Trinity Greek Orthodox Church of Baton Rouge wants you to join them in a celebration of Greek culture, entertainment and cuisine at the 2nd Annual Baton Rouge Greek Festival in Downtown Baton Rouge on Saturday, May 11, 2013, at the Town Square festival venue. Festival goers will dine on Greek food cooked by members of the Church, using authentic Greek recipes. A Greek band, "Alpha Omega Sound," from Atlanta, GA will provide live entertainment and visitors will learn traditional Greek dances. The Holy Trinity Greek Dancers from New Orleans will also perform throughout the day. An assortment of beverages, Greek pastries, Mediterranean arts and crafts, clothing, jewelry, religious icons, festival T-shirts and a festival poster will be available for purchase. [http://brgreekfest.com]
Bayou Boogaloo – New Orleans, May 17th
The 8th Annual Mid-City Bayou Boogaloo Festival that will be held Friday May 17 – Sunday May 19, 2013 along the banks of historic and beautiful Bayou St. John. As always the Festival is a family-friendly event with a kid's stage, along with games and activities for children. Attendees can partake in delicious food, spirits and libations, listen to great local music, and enjoy the very best art that New Orleans has to offer. [http://www.thebayouboogaloo.com]
Jambalaya Festival – Gonzales, May 23rd
The Jambalaya Festival Association, chartered in 1967, invites you to mark your calendar for the 46th annual Jambalaya festival to be held in Gonzales, Louisiana on Memorial Day Weekend, May 23 – 26, 2013. Your whole family will enjoy the vast variety of food, fun, music and activities that have made the Jambalaya Festival the can't miss highlight of the year.
The festival features World Champion Jambalaya served daily, live music and entertainment, carnival rides, cooking contests, a variety of food and so much fun it takes four days to get it all in. [http://www.jambalayafestival.org]
NOLA Food and Wine Experience – New Orleans, May 24th
Over the past 20 years the New Orleans Wine & Food Experience has raised more than $1 million for non-profit organizations right here in our community, while showcasing local food and chefs, and national and international wines. We invite you to raise a glass and be a part of the festivities as we make New Orleans a better place to live, work and play. This year in an effort to fight hunger and support culinary education, the 2013 beneficiaries will share 100% of the proceeds. Second Harvest Food Bank of Greater New Orleans and Acadiana will receive 40% and the following will share the remaining 60%: the Louisiana Restaurant Association Education Foundation's ProStart Program, Delgado Culinary Arts School, New Orleans Center for the Creative Arts' Culinary Program, the John Folse Culinary Institute and the Edible Schoolyard New Orleans. [http://www.nowfe.com]
Cajun Heartland State Fair – Lafayette, May 23rd – June 2nd
The 25th Annual Cajun Heartland State Fair scheduled May 23 – June 2, 2013 will provide the best in family entertainment for children of all ages. North American Midway Entertainment will have numerous super rides such as the giant Ferris wheel, Crazy Mouse and the Mega Drop! Games, free concerts and free attractions will entertain everyone. Prizes and surprises await everyone at the Cajun Heartland State Fair. [http://www.cajundome.com/chsf.aspx]
---
There are plenty of local venues where cultural aficionados can experience live music, but there are few venues that allow art-lovers to experience live art. Spontaneous Combustion, an art event that pairs local musicians and artists, is here to fill that gap.
Recently, the Stockade Bed and Breakfast hosted a Spontaneous Combustion event. A small audience gathered to watch as musicians improvised on drums, guitar, and harp while artists painted to the beat.
While Joel Willson, the event's organizer, performed on the violin alongside his fellow musicians, painters Janene Grodesky and Alex Harvie mimicked the band's rhythms with their brushstrokes.
"The night was an interesting mix of fun and creativity, and I really felt like a part of the art that was taking place through music and painting," said David Benedetto, an LSU senior who attended the event.
Spontaneous Combustion was founded by Daniel Willson, his brother Joel Willson, and their friend, Ben Herrington. Spontaneous Combustion has been performing together for the past three years at various local venues. The group's mission is to spread the love of art in the Greater Baton Rouge community — a mission that we fully support here at The Stockade!
---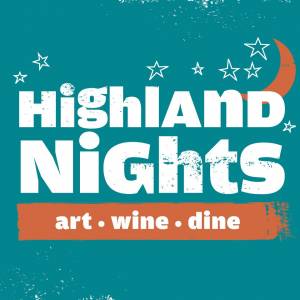 The Highland Road Merchants Association will sponsor HIGHLAND NIGHTS, a group open house, on Friday, November 9th from 6 to 9 p.m.  The event will feature local artists at each participating merchant, along with food, fun, music, and shopping.  More than twenty merchants will open their places of business for this special evening on Highland Road.  A shuttle will be available to ferry guests from business to business during the evening.
Here at The Stockade, six local Baton Rouge artists will showcase their work.  Becky Nash, Jeana Esser, Emily Bowers, Janene M. Grodesky, and Ashley Cornejo will display and sell their one-of-a-kind pieces. The artwork ranges from wheel-thrown pottery and handcrafted jewelry to acrylic paintings and mixed media works. There will also be musical entertainment and refreshments.
Other Participating Highland Nights Merchants:
Aesthetic Dentistry Group
Bustle
Bienville Antiques & Framing
Frameworks Gallery
Gabriella Rothschild's
Iberia Bank
Jenn Ocken Photography
Johnny's Pizza
Lamps & Lighting by Design
Lux Salon
Mathernes Supermarket
Max Fitness
Momentum Fitness
Peregrin's Florist
Poise 'N Ivy
Quantum Express/Heirloom Awards
Sanctuary Home & Gifts
Solitaire Salon
Southern Embellishments
Subway
The Stockade Bed & Breakfast
The Wellness Studio
Yoga Bliss
This event is free of charge and open to the public.  Event inquiries may be directed to Rozlan Fransen at 225 769 0582
or Janice DeLerno at 225-281-7358.
---
Representing Louisiana, LBBA (Louisiana Bed & Breakfast Association) members Janice DeLerno, Lori and Paul Worrell, Lois Rodrigue, along with members of the Mississippi Bed and Breakfast Association (BBAM) attended the annual southern conference in Jackson. National Association PAII (Professional Association of Innkeepers International) president Jay Karen was in attendance and spoke on current innkeeping trends and discussed the "Better Way to Stay" campaign. Mr. Karen specifically addressed the topic "What the New Market of Guests Want from You and What You Can Do to Deliver." The conference's itinerary also included workshops for the aspiring innkeeper, focus groups discussing the importance of social media for your business, industry and business development programs, and even a silent auction and grand prize giveaway.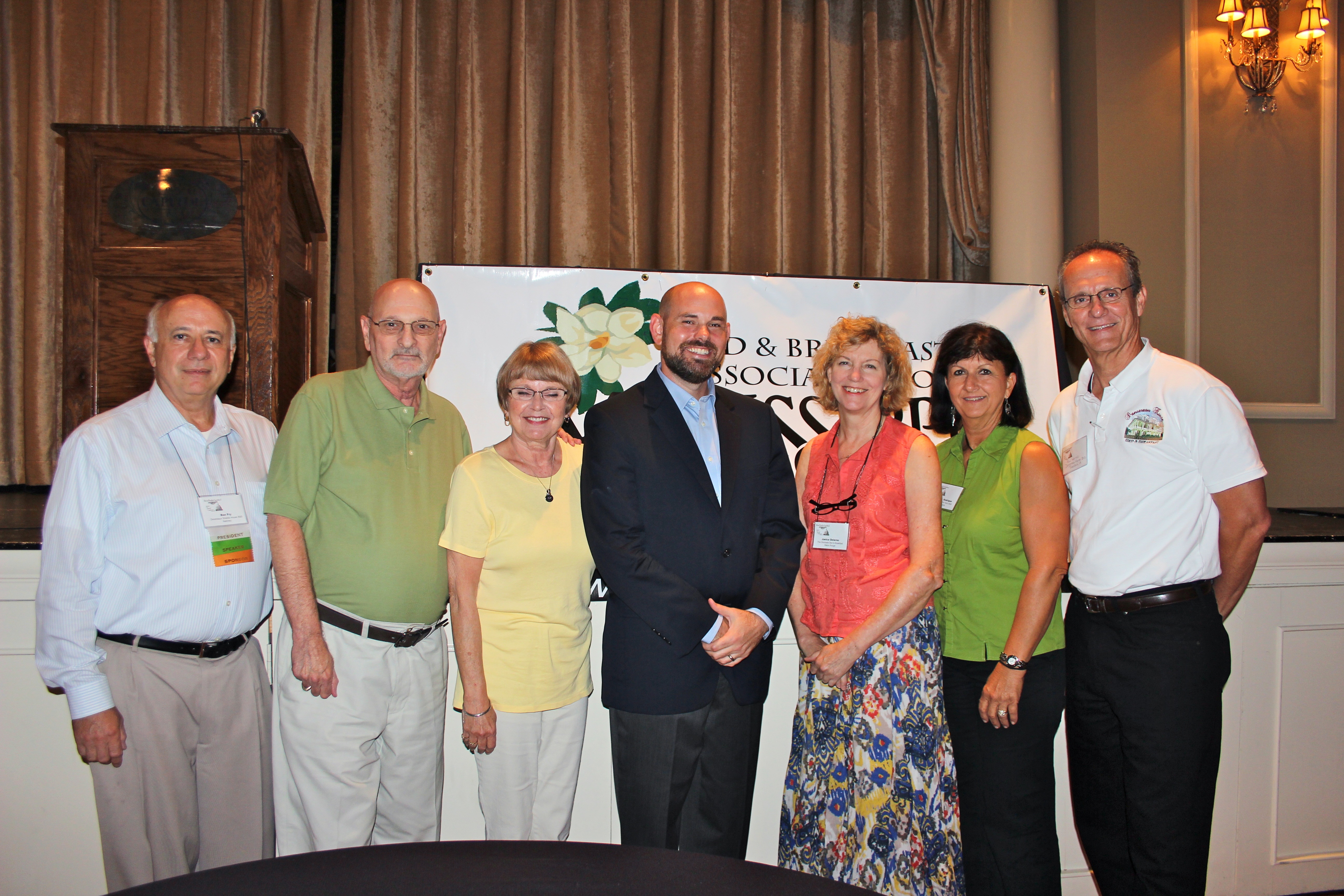 Pictured above from left: Ron Fry (BBAM president), parents of Jay Karen, Jay Karen (PAII president), Janice DeLerno (LBBA president), Lois Rodrigue and Paul Worrell (LBBA members)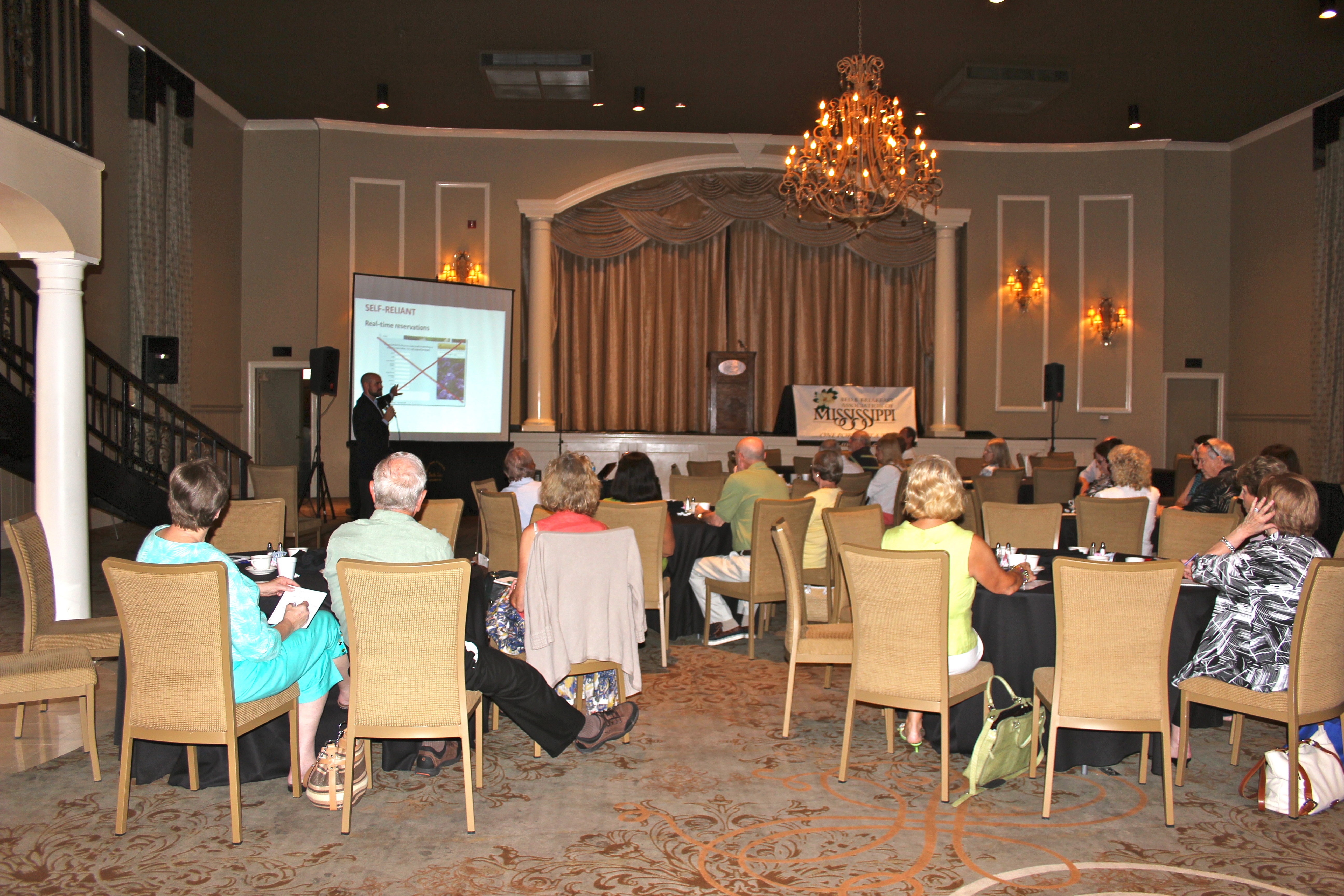 Pictured above: members of the Mississippi and Louisiana Bed and Breakfast Associations.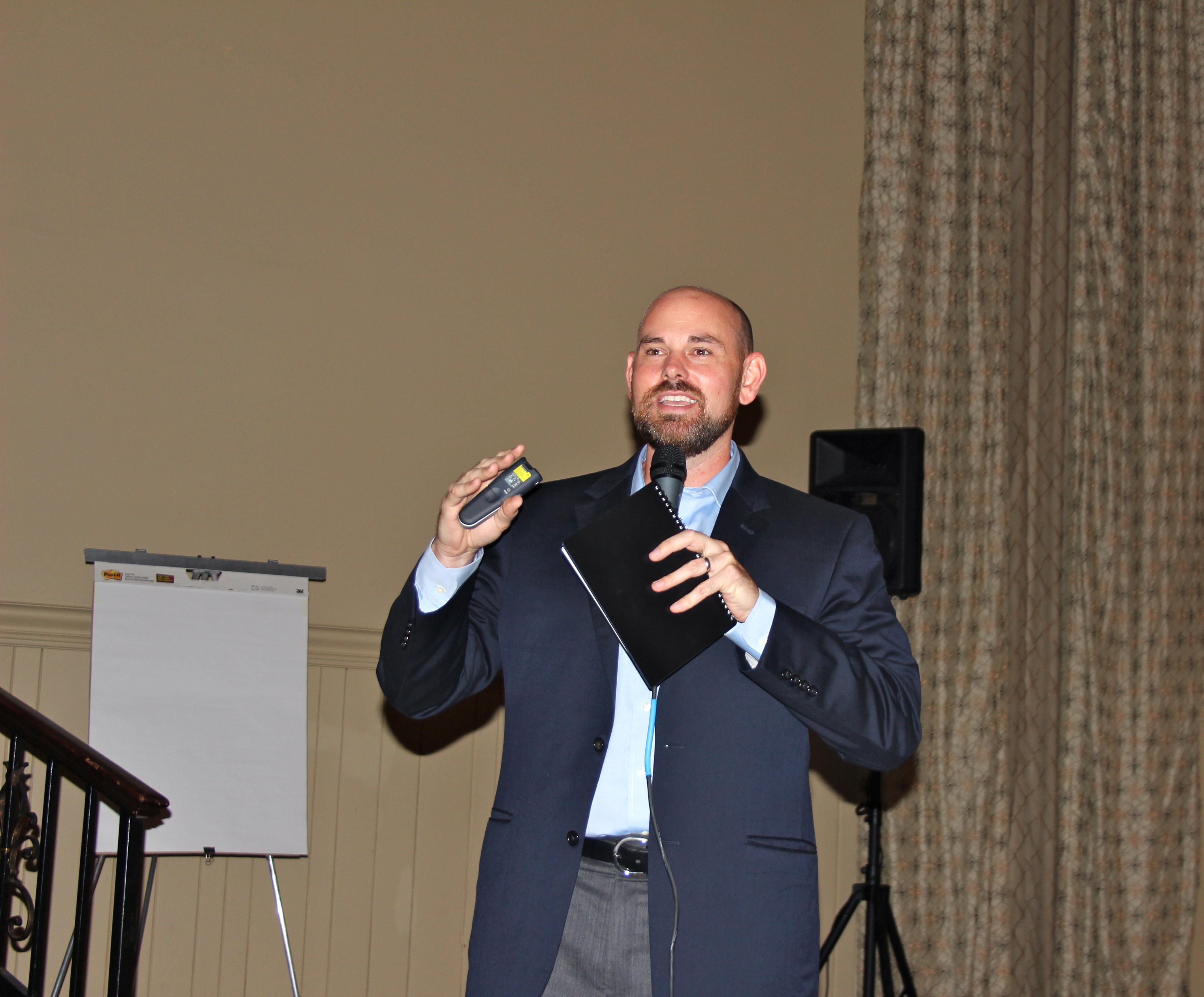 Pictured above: Mr. Jay Karen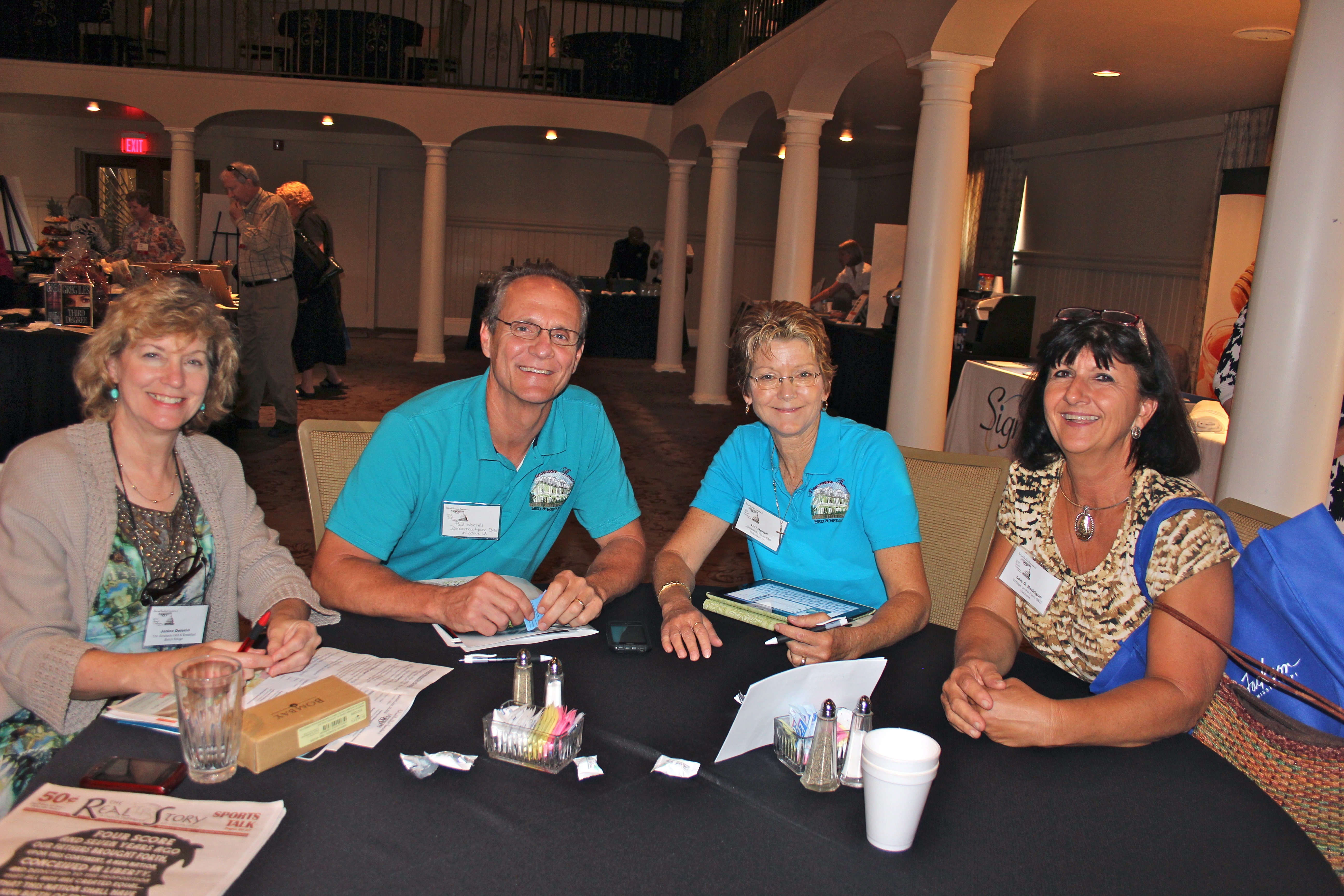 Pictured above from left: LBBA president Janice DeLerno, and LBBA members Paul and Lori Worrell, and Lois Rodrigue
---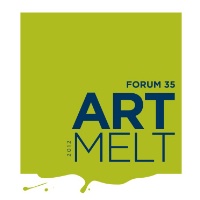 Forum 35′s annual Art Melt will take place in downtown Baton Rouge on Saturday, July 14th from 5 to 10 PM.  This is the largest multi-media, juried art exhibition in the state of Louisiana!  Forum 35 has been sponsoring this event for 9 years now to promote Louisiana resident artists.
Great street party with lots of art, food, beverage and entertainment.  Baton Rouge knows how to support the arts and Forum 35 knows how to support Baton Rouge.
All artwork accepted to the competition will hang in the Shaw Center downtown gallery and remain up and open to the public for 4 weeks following the event.
Stay at The Stockade Bed & Breakfast when you come to see the art. All guest rooms, as well as the common areas, feature original Louisiana art.
Thanks Forum 35!
---
This weekend on July 14th, celebrate Bastille Day!  It is the French equivalent of our Independence Day which Americans celebrate on July 4th.  Technically, it is French National Day, commemorating the 1790 Fete de la Federation, held on the first anniversary of the storming of the Bastille on July 15th, 1789. Many celebrations will be held throughout France and all over the world, including our very own Louisiana
So, if you can't spend it in Gay Paris, celebrate right here in Baton Rouge at one of our French Creole restaurants. Or, if you prefer to immerse yourself in a French community celebration, try Breaux Bridge and the fun-loving Cafe des Amis restaurant.
Ask for the special Bastille Day Package at The Stockade in Baton Rouge, and spend a relaxing night in one of the charming guest rooms.
:
---